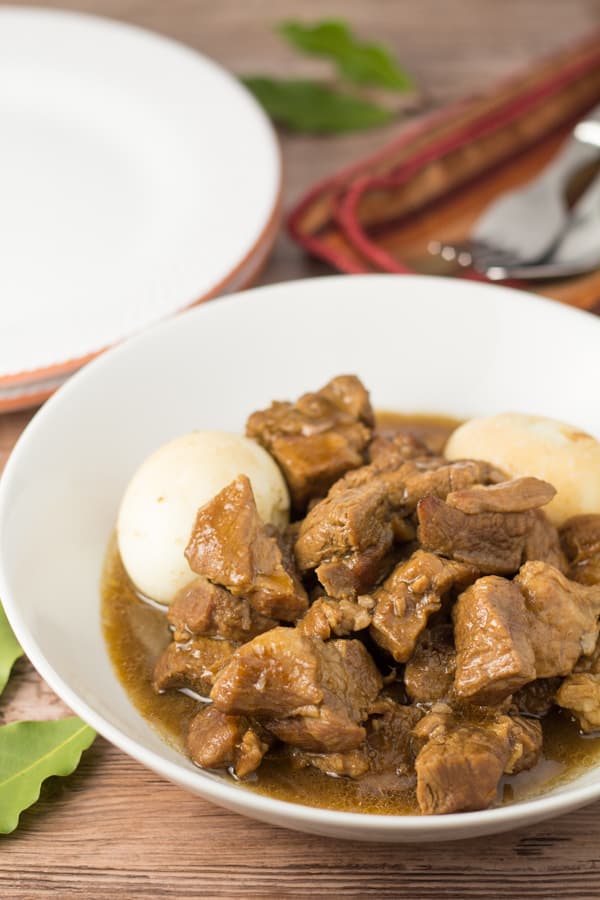 Chinese Pork Adobo (or Tau Yew Bah) is a Chinese dish that is a staple at my house. It is so popular amongst the Chinese that each household has its own way of cooking it. I learned mine from my mother-in-law, who was a good cook. Pork belly is the common pork part that is being used in this dish. I opted for the shoulder butt because it has less fat and therefore, healthier.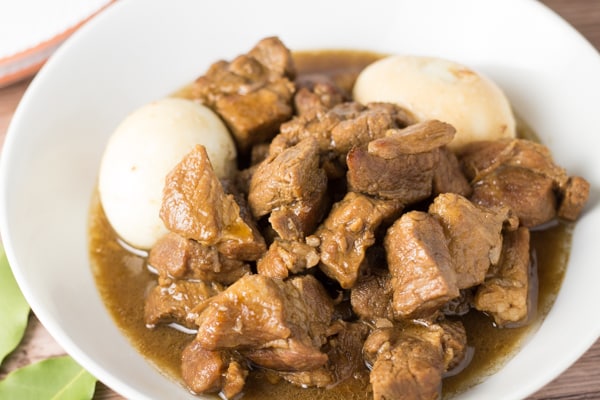 Tau Yew Bah is a dish where pork pieces are braised in soy sauce. My mother-in-law's version of this dish is to sauté the garlic and brown sugar first. The pork pieces are then added, browned, flavored with soy sauce, simmered in water and cooked for an hour.  Hard boiled eggs are then added afterwards. The result is a pork dish that is so tender, flavorful and delicious. My family enjoys this dish with steamed rice but my favorite way of eating Tau Yew Bah is with pan de sal (Filipino bread roll). Enjoy!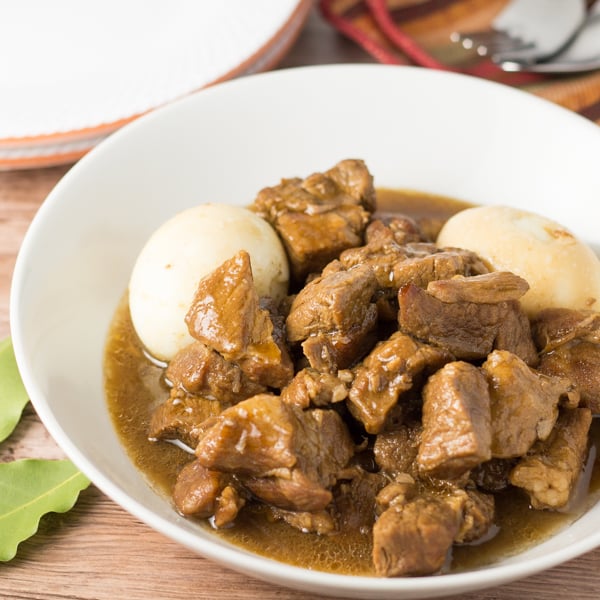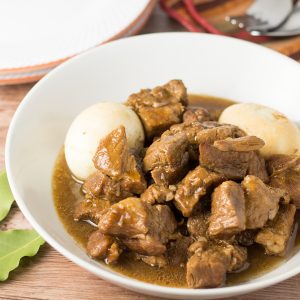 Chinese Pork Adobo (Tau Yew Bah)
Ingredients
2

lbs

. pork shoulder butt

cut into bite-sized pieces

3

tbsp

olive oil

4

cloves

garlic

chopped

2

tbsp

brown sugar

3

tbsp

soy sauce

2

tbsp

oyster sauce

4

hard-boiled eggs

1 ½

cups

water or more as needed
Instructions
Heat oil in a heavy pan over medium high heat. Add garlic; sauté for 1 minute or until lightly brown.

Add brown sugar; sauté for 30 seconds. Add pork pieces; cook for 3 minutes or until meats are no longer pink.

Add soy sauce; stir and cook for 1 minute and then add water. Bring to a boil. Reduce heat, cover and let simmer for 1 hour or until pork is tender. Add more water as needed. (I added ½ cup water each time mixture runs out of sauce)

Add oyster sauce and hard boiled eggs and gently stir. Adjust seasonings and simmer for 1 more minute. Transfer to a plate.

Serve with steamed rice. Enjoy!