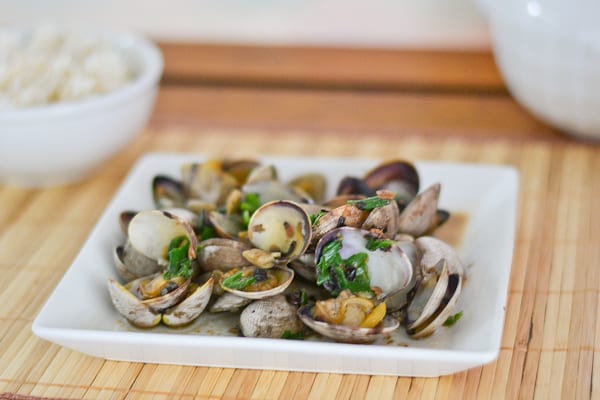 As always, I did my grocery shopping on Saturday. I was in no hurry so I went to the fresh seafood section to look around.  I saw the clams and realized that I haven't had clams for a while so I bought a pound and a half of it and decided to make it for lunch. I usually make clams soup but this time I decided to try a new recipe. I found a simple one that uses ingredients that I have in my pantry and in my fridge. It was so easy to make; it was ready in less than half an hour 😀

Clams with Black Bean Sauce
Ingredients
1 ½ lbs Manila clams, rinsed and scrubbed
2 tablespoons fermented black beans (tausi), rinsed
1 tablespoon olive oil
1 teaspoon Sriracha hot chili sauce
2 cloves garlic, minced
1 ½ teaspoons minced ginger
2 tablespoons Chinese rice wine or dry sherry
⅓ cup water
1 green onion, thinly sliced
Instructions
In a small bowl, mash the black beans with the back of a spoon. Set aside.
Heat a large skillet over medium high heat. Add the olive oil and swirl to coat the bottom.
Add the black beans, chili sauce, garlic and ginger and stir-fry for 30 seconds.
Add the clams and stir-fry for another minute. Add the rice wine and stir to combine.
Pour in the water, cover and allow the clams to steam for 5 minutes or until all the shells have fully open. Discard any clams whose shells are still closed. Transfer the clams to a serving plate.
Allow the broth to simmer for another 1 to 2 minutes or until sauce has been reduced and thickened. Stir in green onions. Pour the sauce over the clams.
Serve and enjoy!
Notes
Recipe source: The Chinese Takeout Cookbook