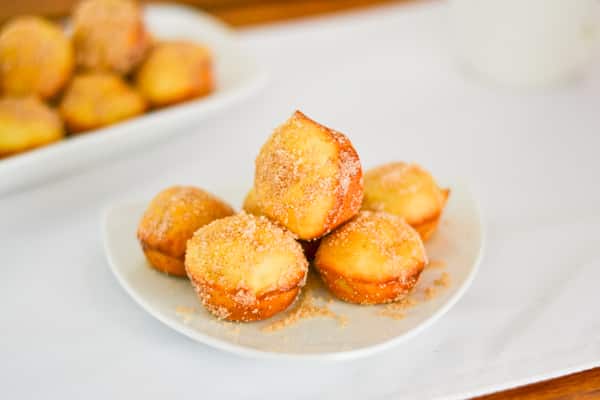 Today is the start of a two week time off from work for me.  I was so glad to come home from work yesterday and was already looking forward to my time off. I wanted to bake some treats for myself and something that I can share with everyone. I was thinking of a recipe that is easy and fun that parents can make with their kids.  So, I made these sugared mini muffins.
Sugared mini muffins are bite sized treats that people on the go can easily take with them and munch on. It is good for people like me who likes to eat a little bit at a time during the day. I won't feel guilty because these mini muffins are baked and have less sugar and yet can satisfy my hunger 🙂

Sugared Mini Muffins
Serves:
22 sugared mini muffins
Ingredients
½ cup milk
1 tablespoon white sugar
1 teaspoon fast rising instant yeast
1 cup + 1 tablespoon all purpose flour
⅛ teaspoon salt
1 tablespoon unsalted butter, melted
1 egg
½ teaspoon vanilla extract
For coating
1 tablespoon unsalted butter, melted
2 tablespoons white sugar
¼ teaspoon ground cinnamon
Instructions
Heat the milk in the microwave at 50% power for 1 minute. Sprinkle in the 1 tablespoon sugar and the yeast. Do not stir. Cover with plastic wrap and let stand for 10 minutes.
Using a fork, beat in the egg into the yeast mixture. Add the melted butter and vanilla. Mix well and set aside.
In a large bowl, mix the 1 cup all purpose flour and salt. Add the wet mixture and stir into a stretchy dough batter. Cover with plastic wrap and let rise in a warm place for 30 minutes.
After the dough has risen, sprinkle 1 tablespoon flour onto it and stir until no more dry flour can be seen.
Preheat oven to 375°F.
Generously greased two 12- cup mini muffin pans with melted butter. Fill the muffin cups ⅔ full with the dough batter. The dough is just enough to fill 20-22 muffin cups.
Bake for 15-17 minutes, until lightly golden. Remove from the oven.
With the muffins still in the pan, brush top with melted butter. Take the muffins out of the pan.
Put the 2 tablespoons sugar and cinnamon in a plastic bag. Drop in ten muffins, close the bag and shake to coat the muffins with cinnamon sugar. Remove the muffins from the bag and shake the other ten muffins.
Serve while warm.
Enjoy!
Notes
Recipe source: Everyday Kitchen for Kids