My family and I had this amazing chicken dish for dinner on Sunday.  We had these chicken thighs in a creamy and delicious mushroom sauce. The chicken pieces were browned first, cooked in a mixture of white wine, thyme, garlic and mushrooms and then finished off in a mixture of asiago cheese, cream and Dijon mustard. The combined flavors and textures were incredible. We had this satisfying dish with steamed rice but they are also good served over noodles. No matter what you served this creamy chicken and mushroom dish with, they will surely be a hit with your family or friends. Enjoy!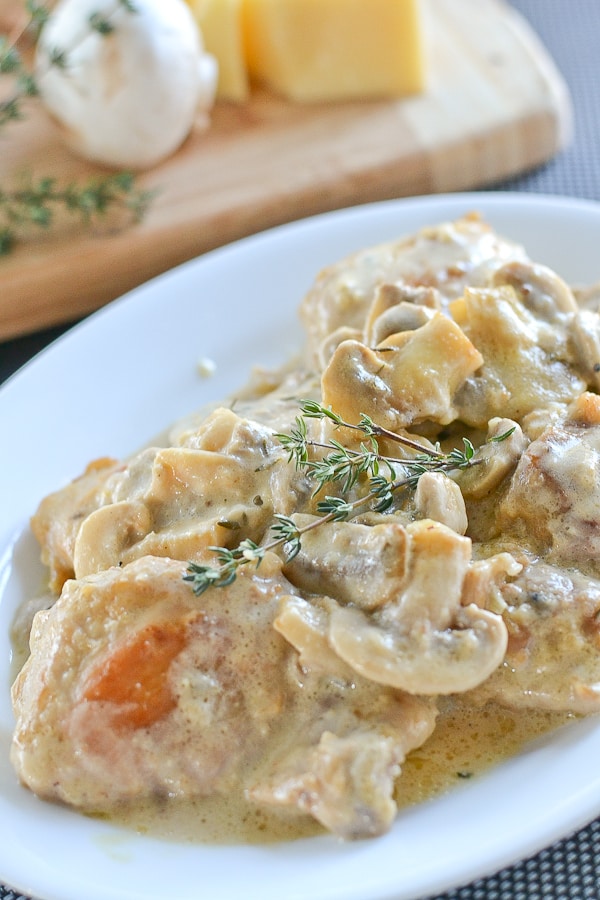 Creamy Chicken and Mushroom Skillet
Ingredients
8 boneless skinless chicken thighs
½ cup flour seasoned with salt and pepper
2 tbsp butter
1 tbsp olive oil
1 lb mushrooms, sliced
1 large clove garlic, chopped
1½ cups white wine or chicken broth
1 tbsp chopped fresh thyme (or 2 tsp dry)
½ cup grated Asiago or Parmesan cheese
2 tbsp Dijon mustard
½ cup heavy cream
Instructions
In a large skillet, melt butter and olive oil on medium high heat.
Dredge chicken in seasoned flour and fry in butter/olive oil mixture until golden brown, about 5 minutes on each side. Remove from pan and set aside.
Using the same pan, add mushrooms and garlic; sauté for a few minutes until mushrooms are tender and lightly browned.
Add white wine and thyme and bring to a boil. Add chicken back to pan and simmer for about 15-20 minutes. Remove chicken from pan. Add cream, asiago, and Dijon to the pan; stir to combine. Season with salt and pepper to taste. Add chicken back to pan and simmer until heated through.
Serve and enjoy!