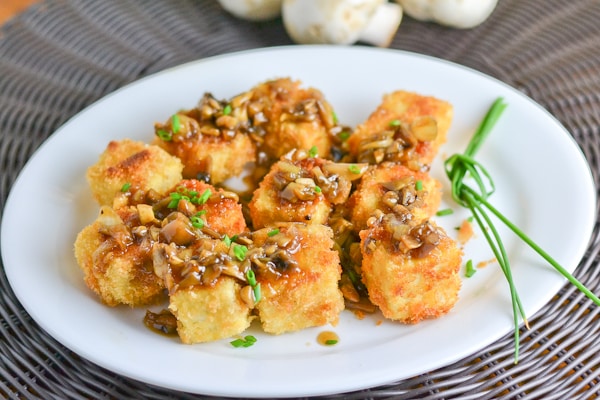 Tofu is one food that my family and I consume a lot. We love tofu for their subtle taste as well as for their health benefits. That being said, I try to incorporate it in my cooking as much as possible. Tofu comes in different textures: soft, medium, firm and extra firm.  They can be used in many different ways. I use them for stir-fry, soup or even for dessert.  This recipe turns the simple tofu into a crunchy and savory dish. The tofu squares are first rolled in seasoned flour, dipped in egg mixture and lastly, coated with Japanese breadcrumbs. They are then fried until crispy and browned and then served with a savory mushroom sauce. The crispy tofu reminds me of a dish that I usually order at a Japanese restaurant. They are prepared similarly except the one from the restaurant uses a softer tofu and is served without a sauce. The tedious part of making this dish is the coating and frying of each tofu squares. It was worth the time and effort because in the end you will be rewarded with delicious tofu squares that are crunchy on the outside but soft on the inside. They are already good on its own but topping them with the mushroom sauce makes them even better. Yummy!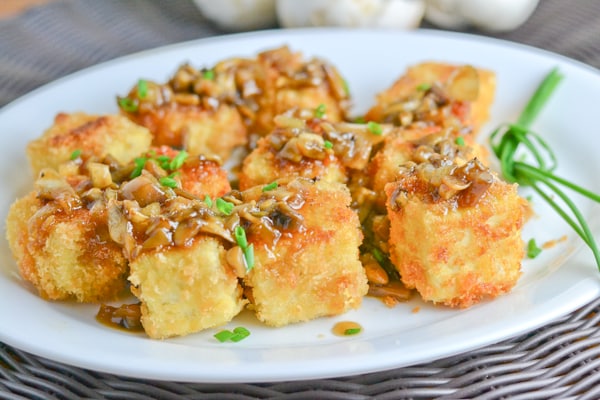 Crunchy Tofu with Mushroom Sauce
Ingredients
2 (350 grams) firm tofu block, drained, pat dry with paper towels and sliced into cubes
¾ cup flour, seasoned with 1 teaspoon salt and ¼ teaspoon black pepper
2 eggs, lightly beaten with 2 tablespoons milk or water
1½ cups Japanese breadcrumbs plus more if needed
oil for deep-frying
For the mushroom sauce:
3 tbsp sake
3 tbsp mirin
1½ tbsp light soy sauce
3 tbsp brown sugar
2 tbsp butter
1 tbsp vegetable oil
1 small onion, chopped
2 cloves garlic, minced or grated
2 cups chopped fresh mushrooms (shiitake, button, or oyster)
Salt and pepper to taste
Instructions
Coat tofu squares with seasoned flour, dip in egg, and then coat with breadcrumbs by gently pressing the tofu for the crumbs to adhere. Deep-fry in hot oil just until golden brown, about 1 to 2 minutes. Drain on paper towels.
Make the mushroom sauce by combining sake, mirin, soy sauce, and brown sugar in a small bowl. Set aside.
In a frying pan or wok, melt the butter and heat the oil. Sauté the onions until translucent. Add garlic and cook until fragrant. Over high heat, add mushrooms and cook until tender, about 2 to 3 minutes. Add the soy sauce mixture and mix well. Season with salt and pepper. Mix well.
Arrange tofu squares on a serving dish. Pour mushroom sauce on top. Serve immediately.