Recently, I made these delicious pumpkin chocolate chips muffins which my family and I really enjoyed. We love pumpkin muffins so much, I decided to make some more but this time I added chopped walnuts instead of chocolate chips. I made some changes to the original recipe by reducing the amount of brown sugar and adding buttermilk to the wet ingredients. The muffins turned out light and fluffy with nice and crispy top. These muffins are so good on its own, so I ended up omitting the cream cheese spread that is originally used in this recipe. These pumpkin spice muffins are perfect snacks to have at this time of the year. Enjoy!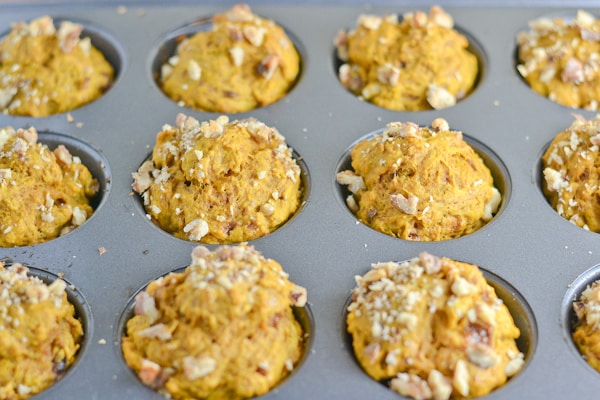 Pumpkin Spice Muffins
Ingredients
1-3/4 cups all-purpose flour
½ cup packed brown sugar
1-1/2 tsp baking powder
1 tsp cinnamon
½ tsp baking soda
½ tsp salt
½ tsp ground ginger
¼ tsp ground cloves
¼ tsp nutmeg
½ cup chopped walnut halves
2 eggs
¾ cup canned pumpkin puree
¼ cup vegetable oil
¼ cup buttermilk
1 tsp vanilla
Instructions
Preheat oven to 375 degrees F. Line 12 muffin cups with paper liners or grease; set aside.
In large bowl, whisk together flour, sugar, baking powder, cinnamon, baking soda, salt, ginger, cloves and nutmeg; mix in ¼ cup of the walnuts.
In separate bowl, whisk together eggs, pumpkin puree, oil, buttermilk and vanilla; pour over dry ingredients. Stir just until dry ingredients are moistened.
Spoon into prepared muffin cups. Sprinkle with remaining walnuts. Bake in preheated oven for 20-25 minutes or until golden and tops are firm to the touch. Let cool in pan on rack for 5 minutes. Transfer to rack; let cool.