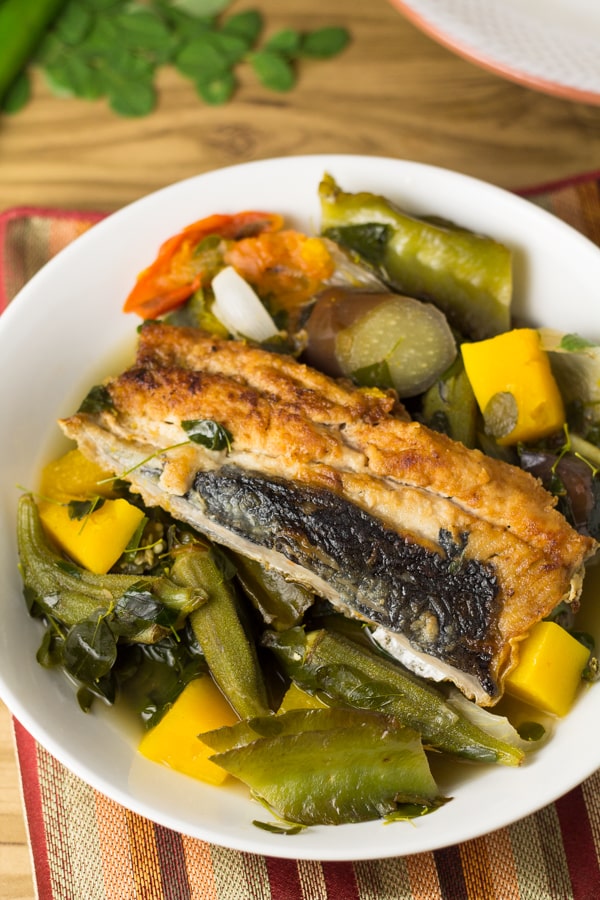 Recently, my husband and I went to this Asian grocery store that is popular among Filipinos. I love going to this store because it carries most of the fruits and vegetables that I love to eat growing up in the Philippines. I was able to find and purchase my favorite fruits and some vegetables that are not commonly found in any Asian grocery store. For example, I was able to buy some wing beans and malunggay leaves which I used to make this boiled vegetables dish with anchovy sauce (Dinengdeng).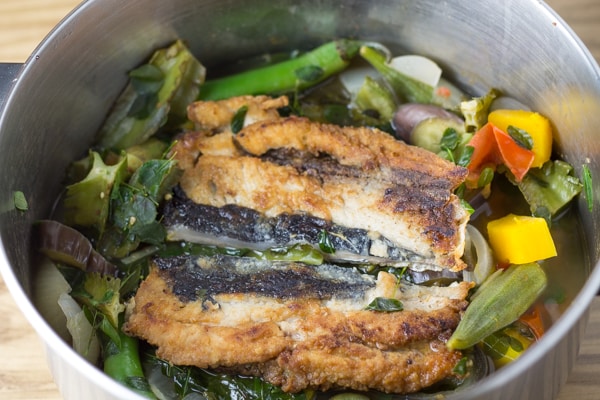 Dinendeng is a popular dish which originated from the Ilocos region of the Philippines. The dish consists of a variety of vegetables which are boiled in water that is flavored with aromatics and bagoong monahon (anchovy sauce). It is similar to pinakbet because both dishes use the same vegetables; squash, eggplant, okra, green beans, and bitter melon. However, unlike pinakbet, this dish has grilled or fried fish. Nevertheless, both pinakbet and dinengdeng are my favorites. Both are healthy and delicious dishes that reminds me of my childhood.
INGREDIENTS:
Bangus belly – main protein in this dish. Other preferred kind of fish may also be used.
Flour – is used to coat the fish before frying. It prevents the fish from sticking to the frying pan.
Avocado oil – is used to fry the fish.
Aromatics: onion, ginger, tomato – add a layer of flavor to this dish
Seasonings: kosher salt and bagoong monamon (bagoong isda) – give salty flavor to this dish
Vegetables: banana squash, okra, eggplant, wing beans, malunggay leaves and serrano peppers – collectively make this dish a healthy and hearty one.
HOW TO MAKE DINENGDENG:
To make this dinengdeng recipe, first fry the seasoned fish belly until golden brown. Set them aside.  Next, in a pot, boil the water together with the aromatics and bagoong monahon ( anchovy sauce) for 5 minutes. Add the vegetables and cook the mixture until the vegetables are tender. Finally, add the fried fish and further cook for another couple of minutes. This boiled vegetable dish with fried fish is best served hot with steamed rice.
TIPS:
The fried fish is added at the last couple of minutes of cooking time and boiled together with the vegetables. The boiled fried fish adds extra flavor and taste to the dish.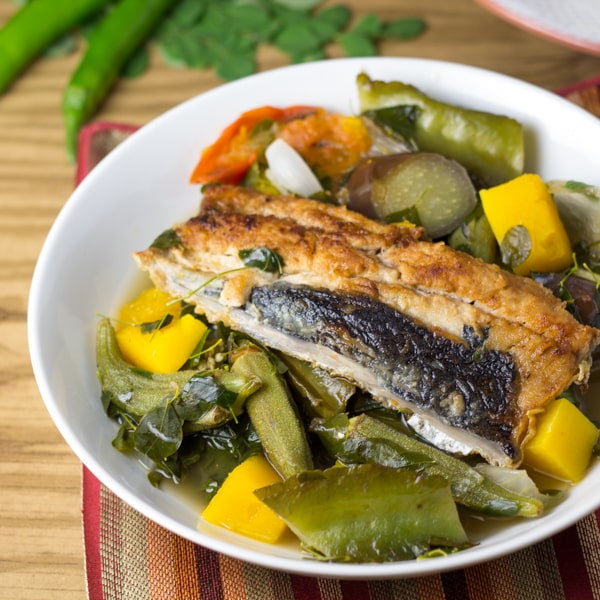 Dinengdeng (Boiled Vegetables with Fried Fish in Anchovy Sauce)
Dinengdeng (Boiled Vegetableswith Fried Fish in Anchovy Sauce) is a Filipino dish consisting of pan fried fish with vegetables that are flavored with anchovy sauce.
Ingredients
2

boneless bangus (milkfish belly)

, cut in halves

Kosher salt

1

tbsp

all-purpose flour

½

cup

avocado oil or preferred cooking oil

2

cups

water

1

onion

, peeled and quartered

1-

inch

piece ginger

, peeled and julienned

1

large tomato

, cut into wedges

2

tbsp

bagoong monamon

(anchovy sauce or bagoong isda)

8

oz

banana squash

, peeled, deseesed and sliced into 1-inch cubes

12

pieces

fresh okra

1

Japanese eggplant

, sliced into ½-inch pieces

8

pieces

wing beans

, ends trimmed and sliced into 2-inch pieces

2

cups

trimmed malunggay leaves

(moringa leaves)

2

serrano peppers
Instructions
Season the bangus belly with salt and then sprinkle with the flour.

In a wok or frying pan, heat the oil over medium high heat. Add the bangus belly and fry until golden brown, about 2 minutes on each side. Drain on paper towels and set aside.

In a pot, combine the water, onion, ginger and tomatoes. Bring the mixture to a boil. Stir in the bagoong monamon, reduce the heat to medium and let the mixture simmer for 5 minutes.

Add the squash and cook for 2 minutes. Add the okra, eggplants and wing beans. Continue cooking until the vegetables are tender, about 3 minutes.

Add the malunggay leaves and serrano peppers and stir. Arrange the fried bangus on top of the mixture and then continue cooking for 2 minutes.

Serve hot with steamed rice.
Nutrition
Calories:
523
kcal
Carbohydrates:
30
g
Protein:
25
g
Fat:
34
g
Saturated Fat:
3
g
Cholesterol:
38
mg
Sodium:
772
mg
Potassium:
1014
mg
Fiber:
4
g
Sugar:
6
g
Vitamin A:
1156
IU
Vitamin C:
277
mg
Calcium:
595
mg
Iron:
2
mg
Nutrition Facts
Dinengdeng (Boiled Vegetables with Fried Fish in Anchovy Sauce)
Amount Per Serving
Calories 523
Calories from Fat 306
% Daily Value*
Fat 34g52%
Cholesterol 38mg13%
Sodium 772mg34%
Potassium 1014mg29%
Carbohydrates 30g10%
Protein 25g50%
Vitamin A 1156IU23%
Vitamin C 277mg336%
Calcium 595mg60%
Iron 2mg11%
* Percent Daily Values are based on a 2000 calorie diet.