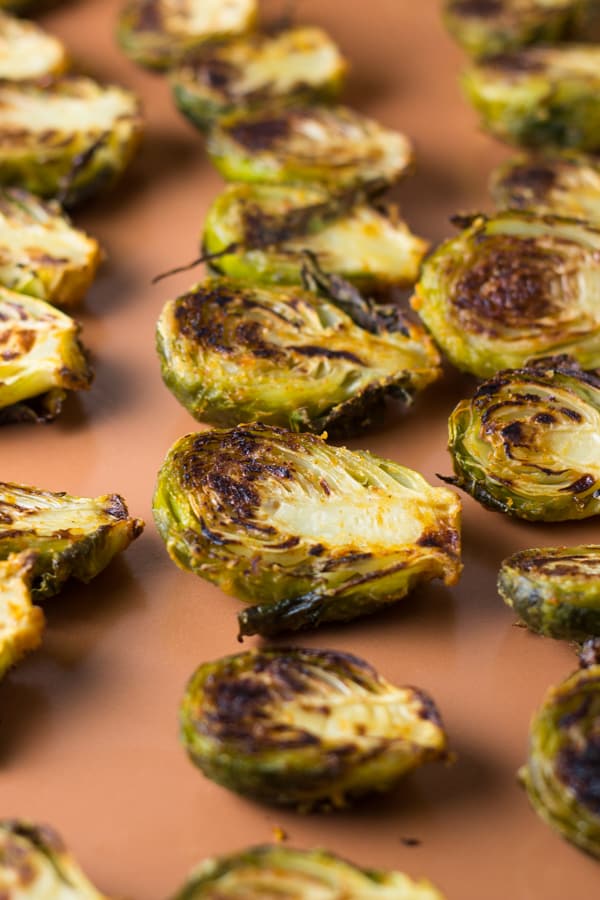 I was never a fan of brussels sprouts because I did not know how to cook them properly and make them taste good. This all changed when my son from Calgary made these roasted brussels sprouts when he came and stayed with us. The sprouts were simply tossed in oil, salt, pepper, garlic powder, smoked paprika and flour, and then baked for 25 minutes. The sprouts came out charred, crispy and flavorful. My husband and I can't get enough of them.  So now, every time I see brussels sprouts at the grocery store, I always buy them. It is now a staple at our house. This simple roasted brussels sprouts recipe is the perfect side dish to accompany any meat dish. It is also great on a salad or as part of a vegetable bowl. 
INGREDIENTS:
Brussels sprouts – the main ingredient in this recipe
Olive oil – help binds the spices and sprouts together
Seasonings: salt, pepper, garlic powder and smoked paprika – collectively makes the sprouts taste better
All-purpose flour – makes the sprouts crispy
HOW TO MAKE ROASTED BRUSSELS SPROUTS:
To make these roasted brussels sprouts, first clean and cut the Brussels sprouts in halves lengthwise.  Next, toss them in oil and then in salt, pepper, garlic powder and smoked paprika. Finally, toss the sprouts in flour until they are evenly coated. Place cut side down on a greased foil set on a baking pan. Bake the sprouts for 15 minutes. Then, flip them over and bake for another 10 minutes.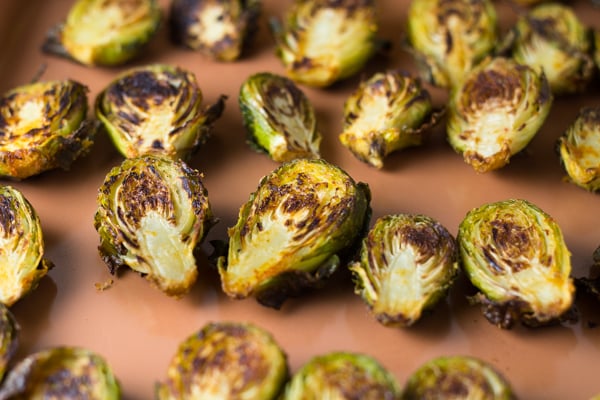 TIPS:
If possible, buy brussels sprouts of the same size. This will make sure the sprouts are baked at the same time.
Baking time may vary depending on the oven and size of the brussels sprouts. To avoid burned sprouts, keep an eye on the sprouts in the last 5 minutes of baking. Adjust baking time, if necessary.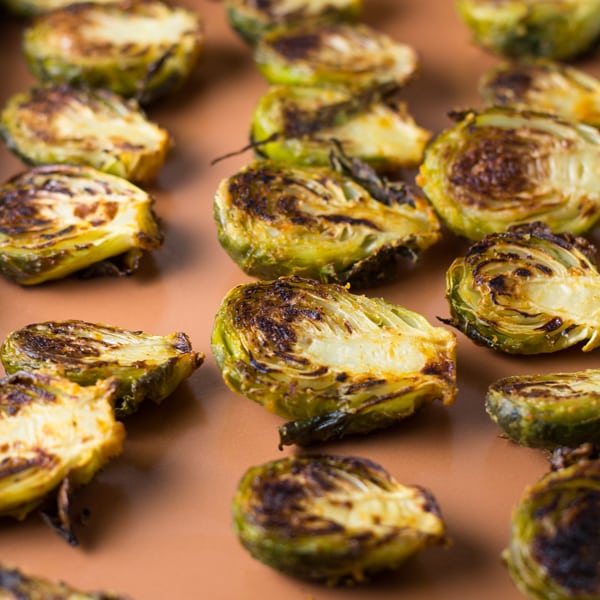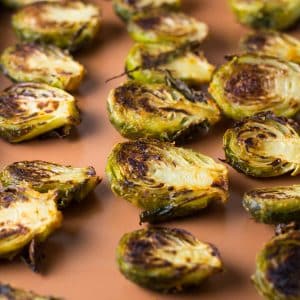 Roasted Brussels Sprout
These roasted brussels sprouts are vegan, crispy, healthy and delicious. They are a perfect side dish to any meat dish and are easy to make.
Ingredients
2

lbs

Brussels sprouts

2

tbsp

olive oil

1/2

tsp

kosher salt

, plus more if needed

¼

tsp

freshly ground black pepper

, plus more if needed

1

tsp

garlic powder

¼

tsp

smoked paprika

1

tbsp

all-purpose flour
Instructions
Preheat the oven to 450 degree F. Line a baking pan with foil and then grease the foil with vegetable oil. Set aside.

Prepare the Brussels sprouts by giving them a good rinse and then pat them dry with kitchen towels. Remove and discard any outer leaves that are browned and then cut each sprout in half lengthwise.

In a large bowl, toss the cut Brussels sprouts with the olive oil. Add the salt, pepper, garlic powder and smoked paprika, and toss until the sprouts are evenly coated. Sprinkle with the flour and toss again.

Place the sprouts cut-side down on to the prepared pan. Bake for 15 minutes. Flip the sprouts over and bake the other sides for another 10 minutes or until sprouts are lightly charred and crispy. Taste and season with more salt and pepper, if needed.

Serve as a side dish or with salad.
Nutrition
Calories:
113
kcal
Carbohydrates:
15
g
Protein:
5
g
Fat:
5
g
Saturated Fat:
1
g
Sodium:
232
mg
Potassium:
594
mg
Fiber:
6
g
Sugar:
3
g
Vitamin A:
1181
IU
Vitamin C:
129
mg
Calcium:
64
mg
Iron:
2
mg