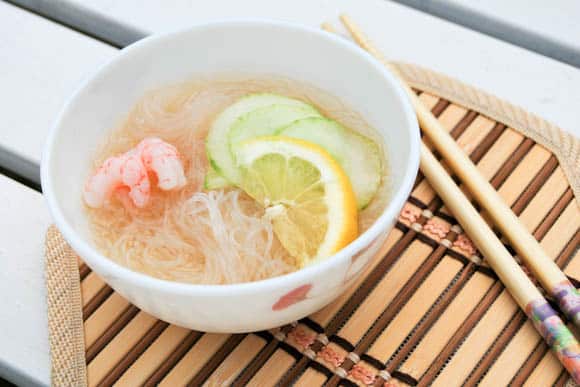 Ebi Sunomono is a Japanese dish consisting of shrimps (ebi) and thinly sliced cucumbers marinated in rice vinegar (su) for several hours.  It has a sweet tangy taste and very refreshing.  This dish is very versatile; you can omit the shrimp if you are not a fan of seafood.  Even just the marinated noodles are good enough for me.
Our family always orders ebi  sunomono  every time we dine at a Japanese restaurant.  For us, eating it is a good and refreshing way to end a full and satisfying meal.

Ebi Sunomono (Japanese Shrimp Salad)
Ingredients
150g bean thread vermicelli (Lungkow brand)
100 g cooked small shrimp
½ English cucumber, peeled
⅓ cup rice vinegar
4 teaspoons sugar
2 teaspoons soy sauce
1 lemon, halved and sliced thinly
Instructions
Cut the cucumbers into thin slices. Sprinkle with 1 teaspoon of salt. Set aside for 5 minutes.
Rinse to remove salt, and drain.
Cook the noodles in boiling water until just tender (around 5 minutes). Rinse in cold water and drain.
In a medium bowl, combine rice vinegar, sugar and soy sauce. Add the noodles, toss, cover and chill for one hour. (The noodles stick together if it has been chilled for too long)
To serve, divide cold vermicelli into 5 serving bowls. Top with shrimp, cucumber and lemon. Enjoy!
Notes
For extra dressing (1 serving): mix 1 tablespoon rice vinegar, 2 tablespoon water and 1 teaspoon sugar