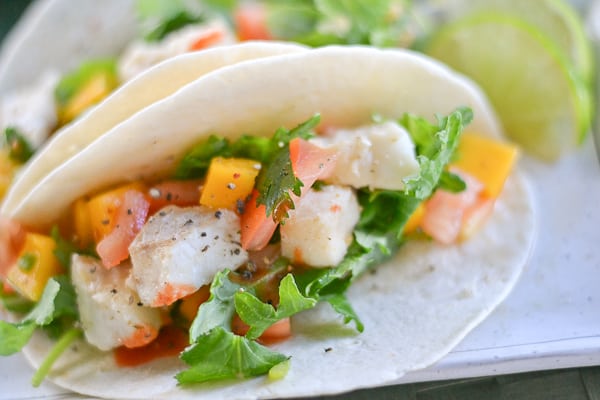 My oldest son has been asking me to make fish tacos at home ever since he first tried it long time ago. Last month, I stumbled upon this fish taco recipe as I was reading the local paper at work. The recipe looks simple and easy to make so I decided to make it at home. One challenge that I encounter when I went shopping for the ingredients was I could not find any corn flour tortillas, even in the freezer section of the supermarket I went to. I was able to find soft flour tortillas so I used that instead. As for the greens, I have left-over mixed baby kale that I bought from Costco, so I used it instead of the shredded lettuce. Overall, even with the substitutions, my family enjoyed these fish tacos with the mango salsa. My husband did not even need the flour tortillas; he ate the spiced fish and the mango tomato salsa with steamed rice.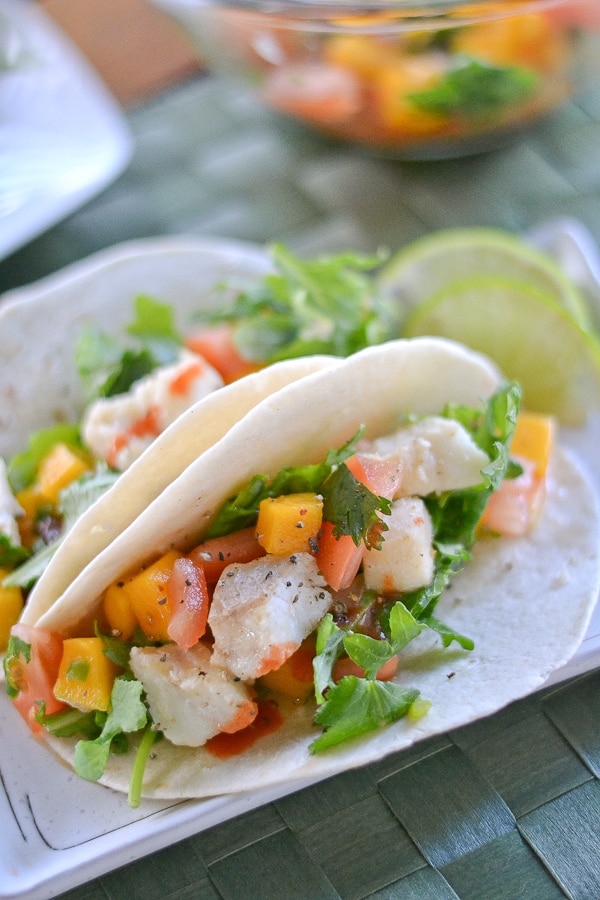 Fish Tacos with Mango Tomato Salsa
Ingredients
1 ¼ lb skinless cod, haddock or snapper fillets
1 tbsp lime juice
1 tbsp olive oil
½ tsp Cajun spice, or to taste
1 cup shredded lettuce ( I used mixed baby kale)
12 corn flour tortillas (I used medium soft flour tortillas)
Hot pepper sauce to taste (optional)
Salsa
1 cup diced ripe mango
1 large tomato, diced
2 green onions, very thinly sliced
2 tbsp chopped fresh cilantro or mint
1 tbsp lime juice
1 tsp sugar
Salt to taste
Instructions
Place salsa ingredients in a bowl. Cover and refrigerate until needed.
Preheat oven to 425 °F. Line a baking sheet with parchment paper.
Cut the fish fillets into ¼-inch cubes and place in a bowl. Add the lime juice, oil and Cajun spice and toss to combine. Arrange the fish in a single layer on the prepared pan. Bake, uncovered, 8-10 minutes or until the fish is cooked. Make sure not to overcook the fish.
Warm the tortillas in the microwave. Divide the lettuce on each tortilla. Top each tortilla with cubes of fish and salsa. Sprinkle with hot sauce, if preferred.
Enjoy!
Notes
Recipe by Eric Akis as featured in the March 3, 2014 edition of "The Province".