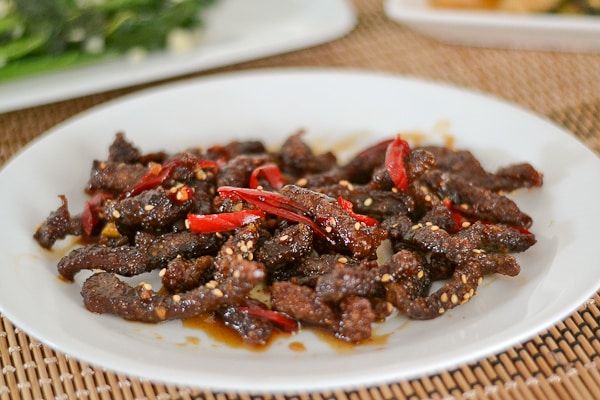 The first time I had this beef dish was when my sister-in-law invited my family to a dinner at a local Chinese restaurant. The dinner consisted of a multi-course meal and this crispy beef with honey and pepper was one of the dishes served. Everyone loved it because it looked appetizing and was also crispy and delectably sweet. Ever since then, I would always order this beef dish, along with my favorite chow mein when I order from this restaurant. My family loves this dish so much; I decided to recreate it at home. I had the chance last week when I was off from work. The recipe consists of a few ingredients and the steps are easy to follow. This crispy beef is incredibly delicious and very satisfying. Love it!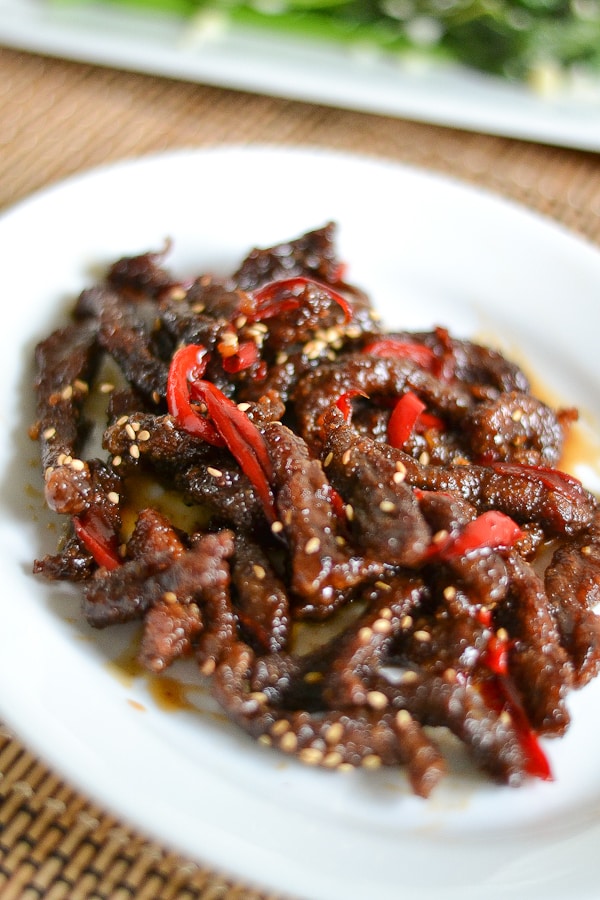 Crispy Beef with Honey and Pepper
Ingredients
1½ lbs sirloin steak
1 tsp salt
½ tsp freshly ground pepper
¼ cup cornstarch
Vegetable oil for frying
2 cloves garlic, minced
1 small red bell pepper, sliced into thin strips
½ cup honey
1 tbsp soy sauce
Instructions
Slice sirloin steak into thin, narrow strips. In a medium bowl, combine salt, pepper and cornstarch. Add beef strips and toss to combine.
Heat oil in a wok or frying pan over medium high heat. Fry coated beef strips, in batches until crispy and golden brown. Transfer to a plate lined with paper towels. Set aside.
Pour off all but 1 tablespoon oil from pan. Lower heat to medium-low; add garlic and cook for a few seconds. Add bell pepper and stir-fry for another minute.
Add honey and soy sauce and stir to mix. Add the browned beef strips and stir to coat.
Serve and enjoy!