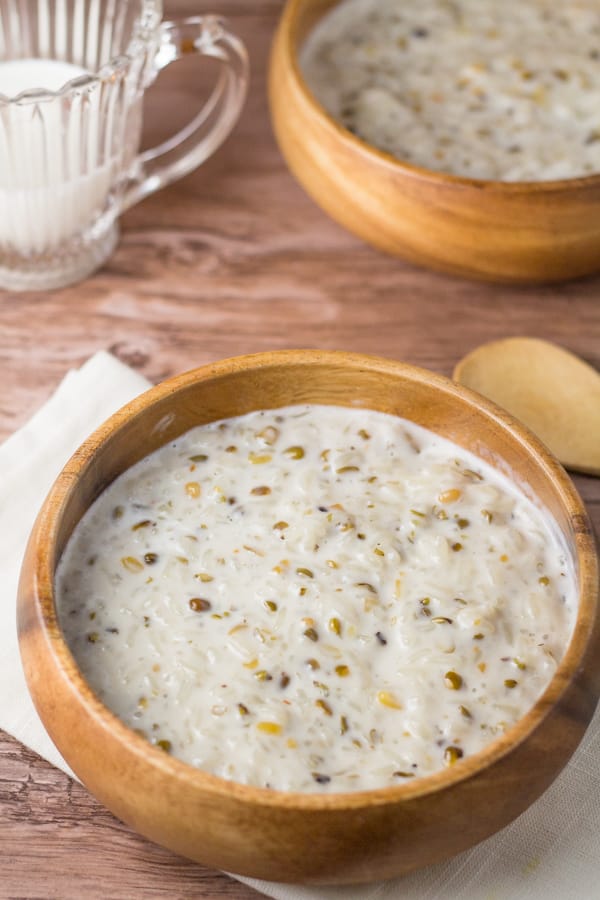 Ginataang munggo is a Filipino sticky rice porridge that is flavored with toasted mung beans and coconut milk. This dish is definitely a nostalgic one for me because it was one of my favorite snacks to eat when I was growing up. Back then, my sister-in-law would frequently make this delicious snack and it was ready to eat when me and my siblings came home from school.
In this dish, the mung beans were dry roasted, pounded coarsely and then cooked with the glutinous rice and coconut milk on low heat. I love eating this snack when it is cold and drizzled with evaporated milk.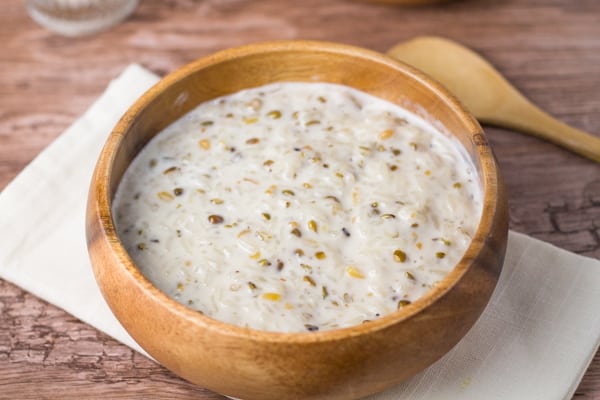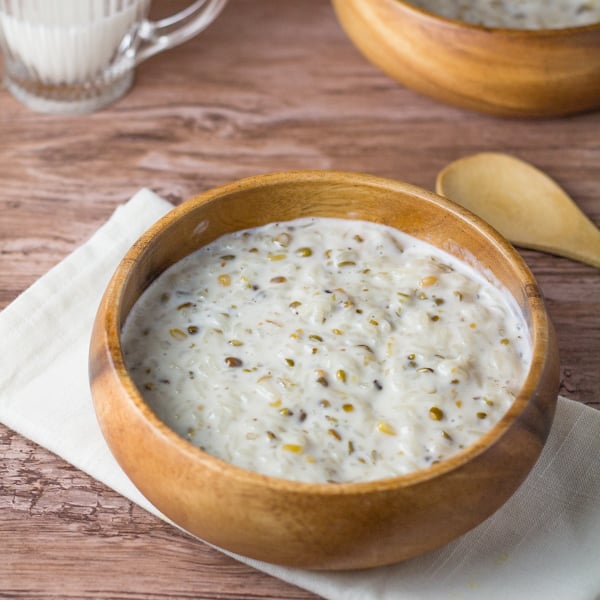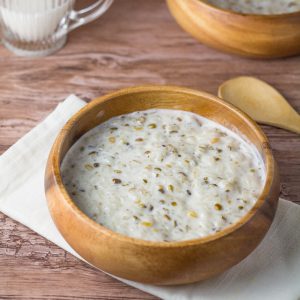 Ginataang Munggo (Sticky Rice with Mung Beans and Coconut Milk)
Ingredients
1/4

cup

green mung beans (monggo)

2

(500 ml cans)

coconut milk, about 3 1/3 cups

1/2

cup

glutinous rice (malagkit)

, washed and rinsed

½

cup

water

1/4

cup

sugar

Evaporated milk,

for drizzling
Instructions
Heat a small wide pan over medium high heat. Add the mung beans and toast, stirring, until brown, about 7 minutes. Let the toasted munggo cool and then using a mortar and pestle, pound it coarsely. Transfer the pounded munggo onto a fine mesh sieve set over a bowl. Shake the sieve to get rid of the fine pieces. Set aside the pounded munggo, discarding the ones in the bowl.

In a heavy pan over medium high heat, bring the coconut milk to a boil. Add the rice and toasted mung beans. Stir, cover and cook over low heat, stirring frequently, for 35 minutes.

Add the water, stir, cover and cook, stirring regularly, until the rice is cooked and mung beans are tender, about 15 more minutes.

Add the sugar and stir until dissolved. Remove from the heat.

Serve hot or cold, drizzled with evaporated milk.