Here is yet another one-skillet dish that I happily stumbled upon the other day. I am a huge fan of Greek food and especially love the lemon flavored rice dishes. It is a favorite in my house when we eat Greek food. So, naturally, when I found this Greek lemon rice dish with chicken, I knew I had to try it.
Chicken thighs would be great in this dish, but I only had chicken breasts. In this Greek lemon rice dish, the chicken was browned in the skillet first until the skin was brown and crispy. Then the vegetables are cooked along with the rice and chicken until the rice was tender. The result is an incredibly flavorful dish. The combination of the lemon juice and dill with the rice and chicken is so good.
I will definitely be making this dish again because it's so simple and is a complete meal all in one skillet or pot!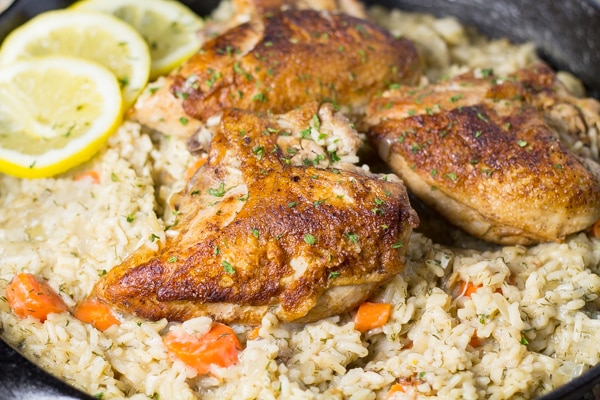 Greek Lemon Rice with Chicken
Ingredients
4 skin-on bone-in chicken breasts (or 4-5 chicken thighs)
Salt and pepper to taste
Paprika to taste
2 tbsp olive oil
2 tbsp butter
1 small onion (minced)
2 carrots, cut into medallions
2 cloves of garlic, minced
1½ cups uncooked white rice
4 cups low sodium chicken stock
1 lemon
¼ cup dill, chopped
1 egg
1 tbsp flour
Instructions
Pat the chicken pieces dry with a paper towel. Season the chicken with salt, pepper and paprika.
Heat a large skillet, or dutch oven over medium-high heat. Add olive oil and butter. Place the chicken pieces skin-side down and cook for 6-8 minutes or until chicken pieces are browned and skin is crispy. Turn the chicken over and cook for another 4 to 5 minutes. Remove chicken from the skillet and set aside.
Reduce the heat to medium and add the onion, carrots, and garlic. Cook, stirring occasionally until the vegetables are softened, about 5 minutes. Add the rice and let it sit for a minute to let it toast. Add 3 ½ cups of chicken stock and bring the mixture up to a gentle boil. Add the chicken pieces back in. Cook, covered for about 20 minutes, stirring occasionally, and ensuring that the amount of liquid does not get too low. If it does get low on liquid, add 1 cup of water at a time. Cook until the rice is tender, chicken is cooked through and there is not much liquid left.
Whisk together the egg, lemon juice, dill, flour and ½ cup stock. Stir it in to the rice and chicken mixture to thicken and flavor the rice. You may temporarily remove the chicken pieces before mixing in the lemon mixture. Add salt and pepper to taste.