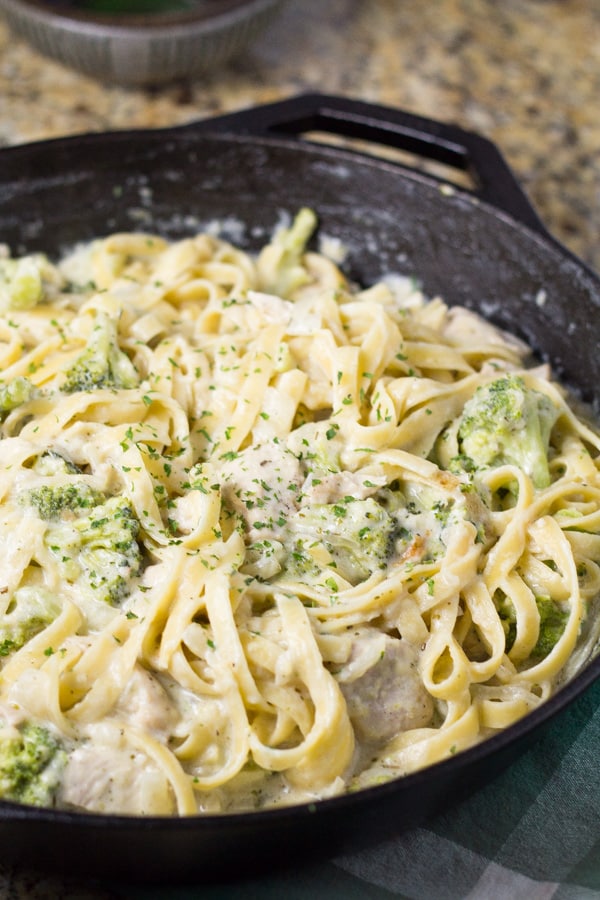 I love cooking with my cast iron skillet. So, when I stumbled upon this easy creamy skillet chicken fettuccine pasta dish, I knew I had to make it. My family loves eating pasta especially when I make pasta with smoked salmon and cream cheese.
In this recipe, the chicken is first cooked in the skillet along with onions, garlic and spices. Then, the fettuccine is cooked in the skillet until it is the desired doneness. The result is a creamy, delicious and hearty pasta dish. What I love most about this dish is that it is "one-pot". If you're like me and pressed for time, it is very convenient to have a full meal all cooked in one skillet.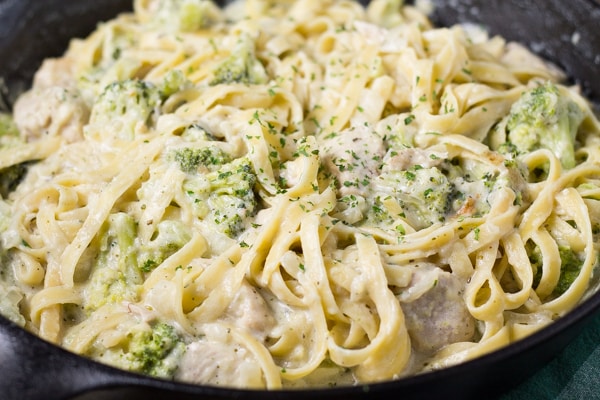 Creamy Skillet Chicken Fettuccine
Ingredients
1 lb boneless, skinless chicken breasts, cut into 1-inch cubes
3 tbsp of olive oil
Salt and pepper to taste
1 medium diced onion
1 clove of garlic, minced
1 tsp of Italian seasoning
2 cups of water
2 cups of chicken stock
8 oz. of fettuccine noodles
3 cups of broccoli florets, fresh or frozen
1 cup of half-and-half
1 cup of Parmesan cheese, shredded
Instructions
Heat a large skillet over medium-high heat.
Cook chicken cubes for 2 minutes or until lightly browned. The chicken does not need to be fully cooked at this point. Remove the chicken from the skillet, transfer to a plate and set aside.
Add onions to the skillet and cook for about 2 minutes. Add the minced garlic and the Italian seasoning. Stir in 2 cups of water and 2 cups of chicken stock and bring to a boil.
Add fettuccini and stir gently. Cook for 7 minutes, stirring occasionally.
Add back the chicken. Add the broccoli and the half and half cream and stir. Reduce the heat and continue to cook for another 5-7 minutes until the chicken is cooked through.
Stir in the Parmesan cheese.
Enjoy!