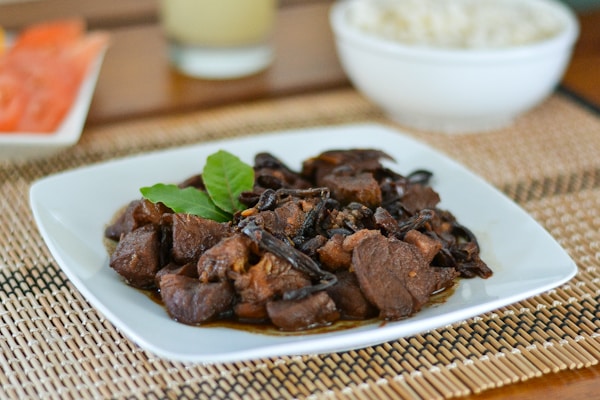 Humba is a braised pork dish that is similar to the popular Filipino adobo dish. The difference is that humba is sweeter and fermented black beans are added to the sauce thus, giving the dish a pungent taste. Pork belly is normally used but other parts like shoulder butt and hocks may also be used. Brown sugar is used to sweeten the sauce but some opted to use pineapple juice or 7-up. The pork pieces are slowly simmered with the sauce until it is melt-in-your-mouth tender.
For this dish, I added a personal favorite, dried lily flowers, which I believe makes this dish more tasty and delicious. No matter what variation is used to make this dish, one thing is for sure, humba is a dish that is loved by many 😀
Humba (Filipino Braised Pork with Black Beans)
Ingredients
2 lbs. pork belly or shoulder butt or hocks, cut into serving pieces
3 tablespoons bottled or canned fermented black beans or black bean sauce
½ oz dried lily flowers (optional)
Marinade
3 cloves garlic, crushed
½ cup white vinegar
½ cup brown sugar
3 tablespoons soy sauce
1 teaspoon salt
1 teaspoon whole black peppercorns
2 cups water
1 bay leaf
Instructions
Combine all marinade ingredients in a bowl.
Add pork pieces and mix well.
Cover with a plastic wrap and let marinate in the refrigerator for 1 hour.
After 1 hour, transfer the pork and marinade into a Dutch oven or heavy pan.
Bring to a boil over high heat. Reduce heat, cover and let simmer for 1 hour or until meat is tender, stirring and adding more water as needed.
Add the black beans and lily flowers, if using; simmer for another 6 minutes or until most of the liquid has evaporated.
Transfer into a serving plate.
Serve with steamed rice.
Enjoy!
Notes
Recipe adapted from the cookbook "The Filipino Cookbook: 85 Homestyle Recipes to Delight Your Family and Friends".