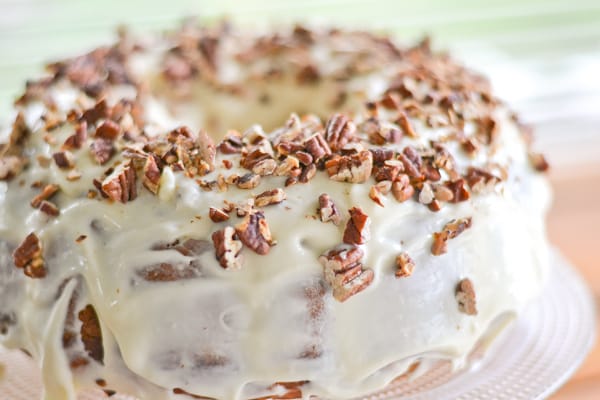 I was searching online for a recipe when I stumbled upon this delicious looking cake.  I was initially looking for a recipe that will make use of the over ripe bananas and a bunch of carrots that I have. This recipe will only make use of the bananas but I decided to make this irresistible cake anyway and use the carrots for some other recipe instead. Hummingbird cake is a popular layer cake which consists of mashed bananas, crushed pineapples, pecans and cream cheese frosting. This recipe uses the same ingredients but was made simple and easy by using a Bundt pan instead of two round cake pans. This cake was enjoyably delicious; the cream cheese glaze with the toasted pecans was my favorite. This cake is a big hit with my family, as well as with some friends who I was able to share this delightful cake with. 🙂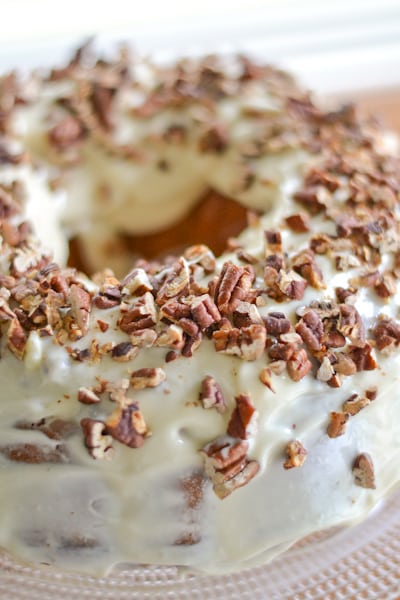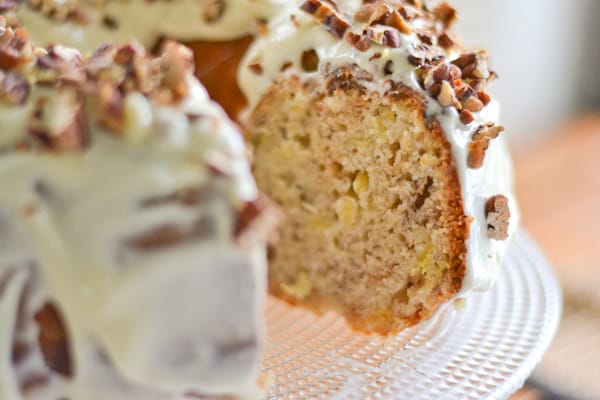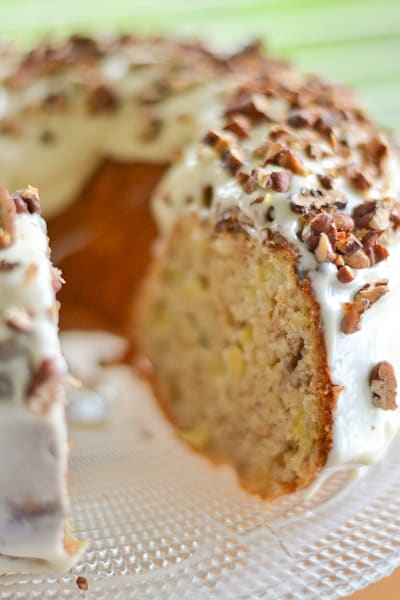 Hummingbird Bundt Cake
Serves:
10 to 12 servings
Ingredients
1½ cups chopped pecans
3 cups all-purpose flour
2 cups sugar
1 teaspoon baking soda
1 teaspoon ground cinnamon
½ teaspoon salt
3 large eggs, lightly beaten
3 large bananas, mashed
1 (14-oz.) can crushed pineapple (do not drain)
¾ cup canola oil
1½ teaspoons vanilla extract
Glaze
4 ounces cream cheese, cubed and softened
2 cups sifted powdered sugar
1 teaspoon vanilla extract
2 Tbsp. milk
Instructions
Preheat oven to 350°F. Bake pecans in a single layer in a shallow pan 8 to 10 minutes or until toasted and fragrant, stirring halfway through. Set aside.
In a large bowl, whisk together flour, sugar, baking soda, cinnamon and salt; stir in beaten eggs, mashed bananas, pineapple, oil and vanilla, stirring just until dry ingredients are moistened. Sprinkle 1 cup toasted pecans into a greased and floured 14-cup Bundt pan. Spoon batter over pecans.
Bake at 350° for 1 hour to 1 hour and 10 minutes or until a long wooden pick inserted in center comes out clean. Cool cake in pan on a wire rack 15 minutes; remove from pan to wire rack, and cool completely (about 2 hours).
Prepare glaze by beating cream cheese, powdered sugar, vanilla, and 1 Tbsp. milk until well blended. Slowly add remaining 1 Tbsp. milk, beating until smooth. Immediately pour glaze over cooled cake, and sprinkle with remaining ½ cup toasted pecans.
Enjoy!
Notes
Recipe adapted from: February 2012 issue of Southern Living