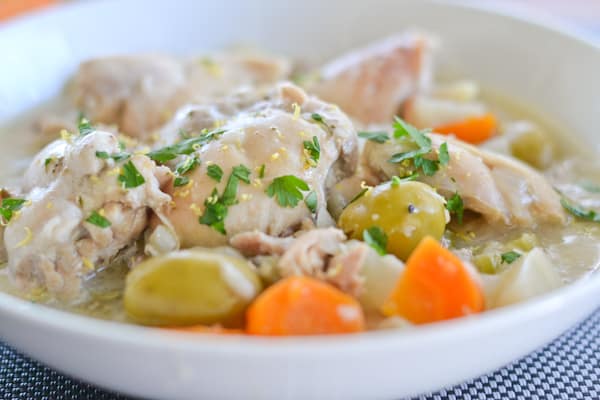 I went back to work this week after being off for two months.  It was nice catching up with old friends and also meeting new ones. I will surely miss my morning walks and the extra time that I had for gardening and cooking. I am glad that over the summer, I had a chance to start using my slow cooker to make meals for my family. That is why I feel that making dinner during workdays won't be as challenging.  I will only have to do the final stage of cooking when I get home after work and dinner is ready. Lemon and olive chicken is one of the dishes that I made using a slow cooker.  In this slow cooker lemon and olive chicken, the chicken pieces were slowly cooked for 6 hours over a mixture of vegetables, spices, broth and water. Lastly, a mixture of flour, cooking liquid and lemon juice was used to thicken the sauce. This tasty dish is good on its own or with steamed rice. Delicious! 😀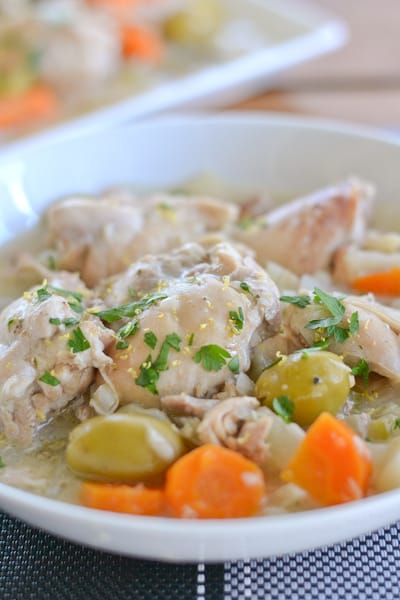 Slow Cooker Lemon and Olive Chicken
Ingredients
2 carrots, chopped
2 ribs celery, chopped
1 bulb fennel, cored and chopped
1 onion, chopped
16 large stuffed green olives
4 cloves garlic, crushed
2 bay leaves
½ tsp dried oregano
¼ tsp salt
¼ tsp pepper
12 boneless skinless chicken thighs
¾ cup sodium-reduced chicken broth
¼ cup all-purpose flour
2 tbsp lemon juice
½ cup chopped fresh parsley
Grated zest of 1 Lemon
Instructions
In slow cooker, combine carrots, celery, fennel, onion, olives, garlic, bay leaves, oregano, salt and pepper.
Arrange chicken pieces on top of vegetables. Add broth and ¾ cup water. Cover and cook on low until juices run clear when chicken is pierced, 5-1/2 to 6 hours. Discard bay leaves.
Whisk flour with 1 cup of the cooking liquid until smooth; whisk in lemon juice. Whisk into slow cooker; cook, covered, on high until thickened, about 15 minutes.
Mix parsley with lemon zest; serve sprinkled over chicken mixture.
Enjoy!
Nutrition Information
Serving size:
1
Calories:
176
Fat:
7g
Saturated fat:
2g
Carbohydrates:
10g
Sodium:
481mg
Fiber:
3g
Protein:
18g
Cholesterol:
71mg