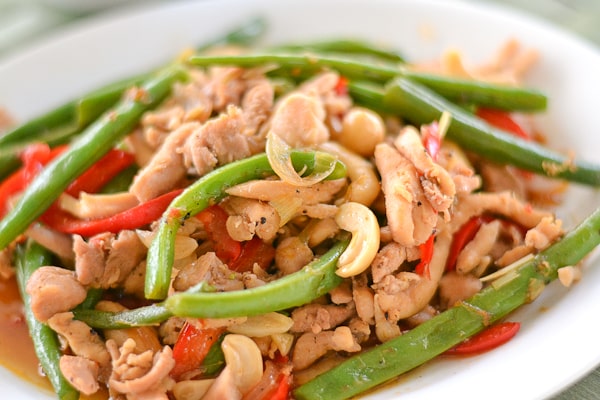 Here is another simple chicken stir-fry recipe that I have made and want to share with you all. It consists of slices of chicken and vegetables that are flavored with lemongrass and sauce of sugar, soy sauce and ground chili paste. I love the moist flavored chicken pieces and the crunchiness of the green beans and cashews.  I absolutely enjoyed this healthy dish for dinner, as well as for lunch at work the next day. Simple but delicious!
Lemongrass Chicken Stir Fry
Ingredients
2 tablespoons vegetables oil, divided
1 tablespoon sliced peeled fresh lemongrass
2 garlic cloves, sliced
1 cup sliced red bell pepper
½ cup sliced shallots
8 ounces green beans, trimmed
1 pound skinless, boneless chicken thighs, thinly sliced
⅓ cup unsalted cashews
1 Thai chili, thinly sliced
Sauce
1 tablespoon brown sugar
2 tablespoons chicken stock
1 tablespoon fish sauce or 1 teaspoon salt
2 teaspoons soy sauce
1 teaspoon sambal oelek (ground fresh chili paste)
Instructions
In a small bowl, combine all ingredients for the sauce. Set aside.
Heat a large wok or large skillet over high heat. Add 1 tablespoon oil; swirl to coat. Add lemongrass and garlic; stir-fry 30 seconds. Remove from pan with a slotted spoon; place in a small bowl. Add bell pepper, shallots, and green beans to pan; stir-fry 2 minutes. Remove vegetables from pan with a slotted spoon; add to lemongrass mixture.
Add remaining 1 tablespoon oil to pan; swirl to coat. Add chicken in a single layer; cook 2 minutes or until browned. Add cashews and chili to pan; stir-fry 2 minutes or until chicken is cooked. Stir in stock mixture and vegetable mixture. Bring to a boil; cook 1 minute or until sauce begins to thicken. Serve immediately.
Notes
Recipe source: Cooking Light: January/February 2013