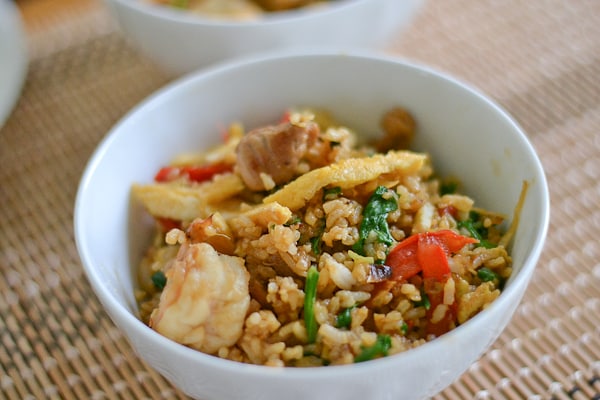 I love making fried rice for my family. It is such a versatile dish; you can add any meat, seafood or vegetables you like. Some of our favorites are salmon fried rice and chicken fried rice. I have also tried fried rice recipes from other cuisines and one of our favorites is Yangzhou fried rice.
Nasi goreng is an Indonesian fried rice that typically consists of chicken and shrimps and flavored with chili paste and kecap manis. Kecap manis is sweet soy sauce that is commonly used in the Indonesian cuisine. Nasi goring tastes different from the usual fried rice I have made. The ground cumin and coriander, as well as the chili paste give this rice dish a unique and stronger taste. Furthermore, vegetables like leek, red bell pepper and spinach definitely make this dish a complete meal. Enjoy!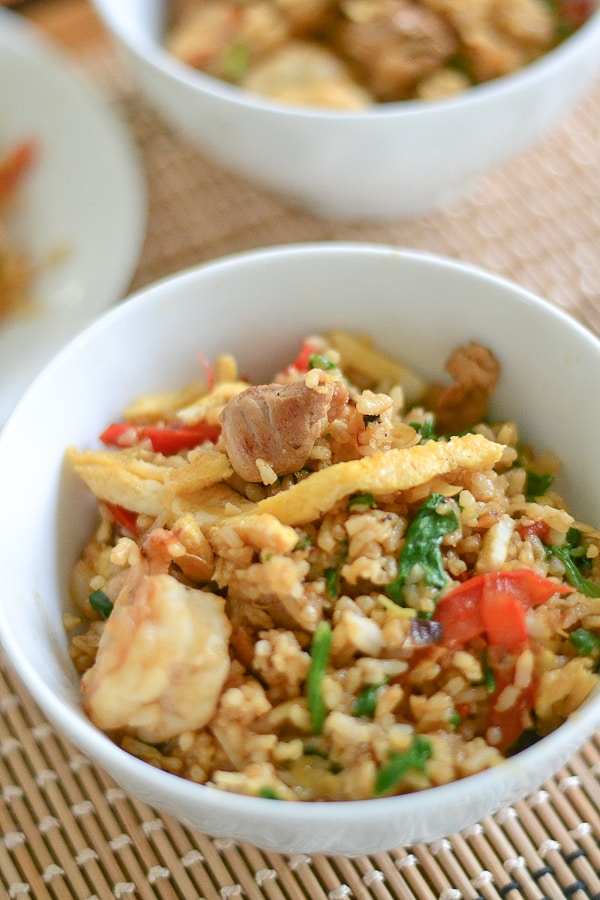 Nasi Goreng (Indonesian Fried Rice)
Ingredients
3 tsp olive oil
3 eggs, beaten
1 onion, chopped
1 leek, (white and light green parts only), thinly sliced
½ red bell pepper, thinly sliced
3 cloves garlic, minced
1 tsp ground cumin
1 tsp ground coriander
1 tsp Asian chili paste, (such as sambal oelek)
8 oz boneless skinless chicken thighs, cubed
8 oz frozen medium shrimp, thawed, peeled and deveined
4 cups cooked rice
3 tbsp kecap manis or 3 tbsp soy sauce mixed with 3 tbsp liquid honey
2 tsp white vinegar
¼ tsp salt
3 cups fresh spinach leaves, coarsely chopped
Instructions
In non-stick wok or deep skillet, heat 1 tsp of the oil over medium heat; add beaten eggs, cover and cook until firmly set, about 3 minutes. Fold in half and remove from pan; cut into thin strips. Set aside.
In same wok, heat remaining 2 tsp oil over medium-high heat; cook onion, leek and red bell pepper, stirring occasionally, until onion begins to soften, about 5 minutes. Stir in garlic, cumin, coriander and chili paste; cook until fragrant, about 1 minute. Transfer to bowl; set aside.
Add chicken to wok; cook until browned and juices run clear when chicken is pierced, about 5 minutes. Stir in shrimp; cook until pink, about 1 minute.
Stir in rice, vegetables, kecap manis, vinegar and salt; toss to coat. Stir in spinach; cook until rice is hot, about 3 minutes. Fold in egg.
Notes
Recipe source: Canadian Living: May 2012.