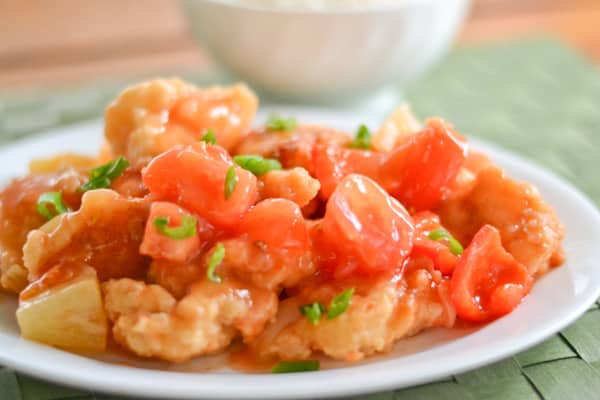 It's nice to finally have some quiet and extra time after the holiday rush. I like to spend this time with my family watching TV shows and movies.  I have also done less cooking because we have been eating mostly left-overs from the Christmas Eve's feast.  One of the few times I made a meal, I made this sweet and sour fish dish that my family loved. The breaded fish with the sweet and sour sauce is so delicious and satisfying. The breaded chunks of fish reminded me of the fish and chips we always buy. I am thinking of making fish and chips using the same breading. I am pretty sure it will be good!

Sweet and Sour Fish
Ingredients
2 lbs cod, tilapia, halibut or any other whitefish, cut into 1-inch chunks
1 large red bell pepper, cut into 1-inch chunks
1 large onion, cut into 1-inch chunks
1 large tomato, cut into 1-inch chunks
1 (398ml/14 oz) can pineapple chunks, drained
2 tbsp cornstarch
Vegetable oil for frying
Breading
¼ cup cornstarch
2 cups flour
6 tbsp vegetable oil
4 tsp baking powder
1 tsp seasoning salt
1 pinch cayenne pepper
2 cups water
Sweet and sour sauce
⅓ cup vinegar
⅓ cup sugar
½ tsp salt
¼ cup orange juice
¼ cup pineapple juice
¼ cup ketchup
Instructions
In a large bowl, toss fish with ¼ cup cornstarch.
In another bowl, whisk together flour, 6 tbsp oil, baking powder, seasoning salt and cayenne pepper. Slowly add 2 cups of water, whisking until the batter has become smooth. Pour batter over the coated fish pieces and stir to coat.
Fry coated fish pieces in hot oil in batches for 4 minutes or until golden brown. Drain on paper towels.
In a bowl, mix ingredients for the sauce. Set aside.
In a wok or skillet, heat 1 tablespoon oil. Stir-fry red pepper and onions for 3 minutes. Add sauce mix. Bring to a boil and simmer for 10 minutes. Mix 2 tbsp of cornstarch in ⅛ cup of water, pour into the sauce and stir until the sauce has thickened. Add fish pieces, tomatoes and pineapple chunks to the sauce; stirring well to coat the fish with the sauce.
Transfer to a plate and serve with steamed rice.
Enjoy!
Notes
Recipe adapted from blogchef.net