Healthy, light and aromatic, this is how I would describe this Moroccan couscous and chickpeas dish. I have wanted to make this dish since last month but did not get the chance but warm and lazy days prompted me to make it.  The combination of couscous and dried fruits make this dish a perfect summer meal. Furthermore this dish is simple and a nice change from the staple rice meal our family usually has. 🙂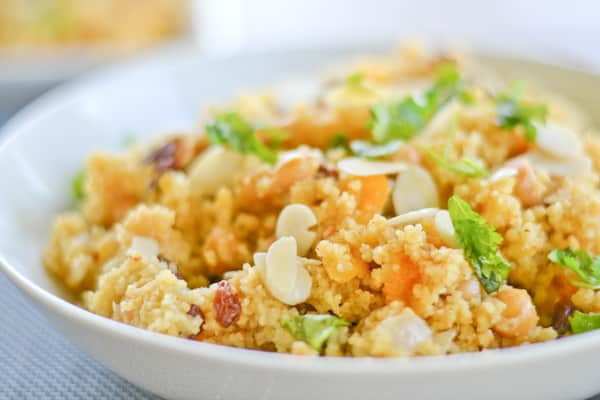 Moroccan Couscous and Chickpeas
Ingredients
2 tablespoons olive oil
1 onion, minced
4 cloves garlic, minced
½ teaspoon ground cinnamon
½ teaspoon ground cumin
½ teaspoon ground coriander
½ teaspoon ground ginger
One 19oz (540 ml) can of chickpeas, drained and rinsed well
1 cup couscous
½ cup raisins
½ cup sliced dried apricots
2 cups orange juice
Zest and juice of one lemon
Salt and pepper
½ cup sliced or slivered almonds
A handful of chopped cilantro
Instructions
Heat the oil in a saucepan over medium high heat. Add the onion, garlic and ground spices and sauté for 2-3 minutes to blend flavors.
Add the chickpeas, couscous, raisins, apricots, orange juice, lemon zest and juice, and salt and pepper. Bring to a simmer and then reduce heat to low. Cover and continue cooking until couscous is tender and the liquid has been absorbed, about 15 minutes.
Turn off the heat and let the couscous rest for another 5 minutes or so. Using a fork to fluff up the couscous, transfer it into a serving plate. Sprinkle with the almonds and chopped cilantro.
Serve and enjoy!
Notes
Recipe source: The Best of Chef at Home: Essential Recipes for Today's Kitchen.