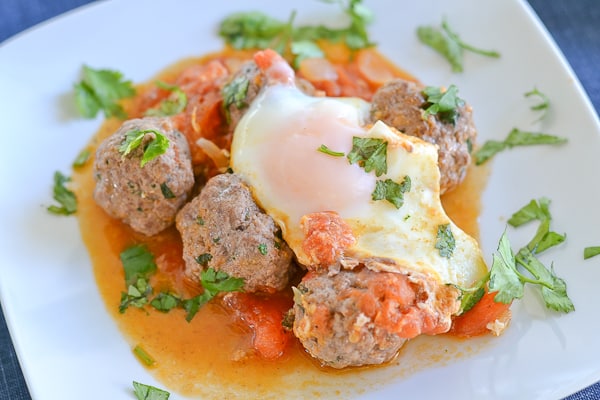 I love dishes with eggs. In fact, I have shared in the past couple of dishes; Arroz Caldo and Braised Pork in Soy Sauce which I love and contain hard boiled eggs. So, when the well known British chef Rick Stein made this Moroccan dish on his TV show, it really caught my attention. The dish contains meatballs and poached eggs in spiced tomato sauce. The dish was originally cooked on a tagine pot but using a skillet works as well. This hearty dish may be served with pita bread but my family and I enjoyed this flavorful dish with steamed rice. Enjoy!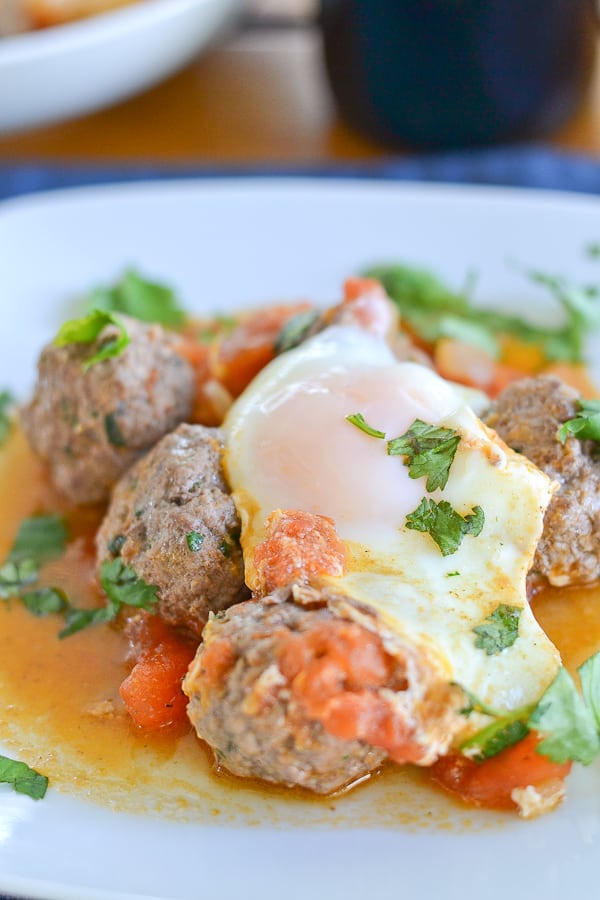 Moroccan Meatballs, Egg and Tomato Tagine
Ingredients
1 lb ground beef
2 tbsp finely chopped parsley
1 tsp ground cumin
½ tsp paprika
salt and freshly ground black pepper
3 tbsp olive oil
4 eggs
a small handful fresh coriander leaves, coarsely chopped
Sauce:
1 onion, finely chopped
2 lbs ripe tomatoes, skinned, deseeded and chopped
1 tsp ground cumin
½ tsp hot or mild paprika
1 tsp freshly ground black pepper
2 garlic cloves, crushed
Instructions
Combine ground beef, parsley, 1 tsp cumin, ½ tsp paprika, 1 tsp salt and some freshly ground black pepper into a bowl. Mix well and roll in balls of desired size.
Heat 2 tbsp of the oil in a 12-inch skillet and brown the meatballs briefly on all sides. Transfer to a plate and set aside.
Add the remaining tablespoon of oil in now empty skillet. Add onion and cook gently for 8-10 minutes or until onion has softened. Add the remaining sauce ingredients; simmer gently for 15 minutes or until well concentrated in flavor but not too thick. Season generously with salt to taste.
Return the meatballs to the skillet and stir to coat with the sauce. Make 4 slight dips in the mixture and break an egg into each one. Cover and cook for another 4 to 5 minutes or until the eggs are just set. Sprinkle with chopped coriander and serve.
Enjoy!