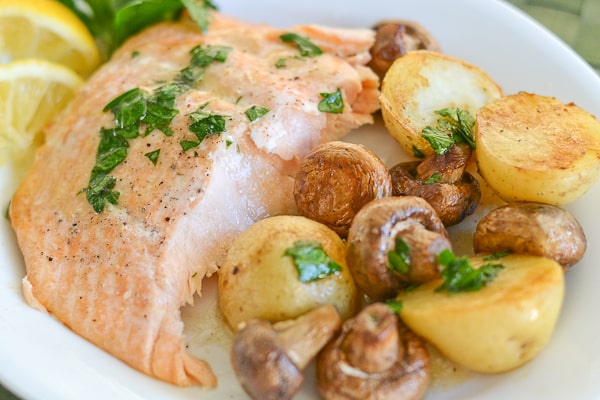 My family loved this salmon dish I made over the weekend. It was simple and easy to make and required minimum preparation time.  The salmon, potatoes and mushrooms were cooked together in the same baking pan making clean up much easier. They were simply cook with olive oil, salt and pepper.  It was the tangy mixture of red wine vinegar, Dijon mustard, honey and parsley drizzled over the salmon, potatoes and mushrooms that made this dish tasty and delicious. It was a complete meal on its own but my family enjoyed this delightful dish with steamed rice. Enjoy!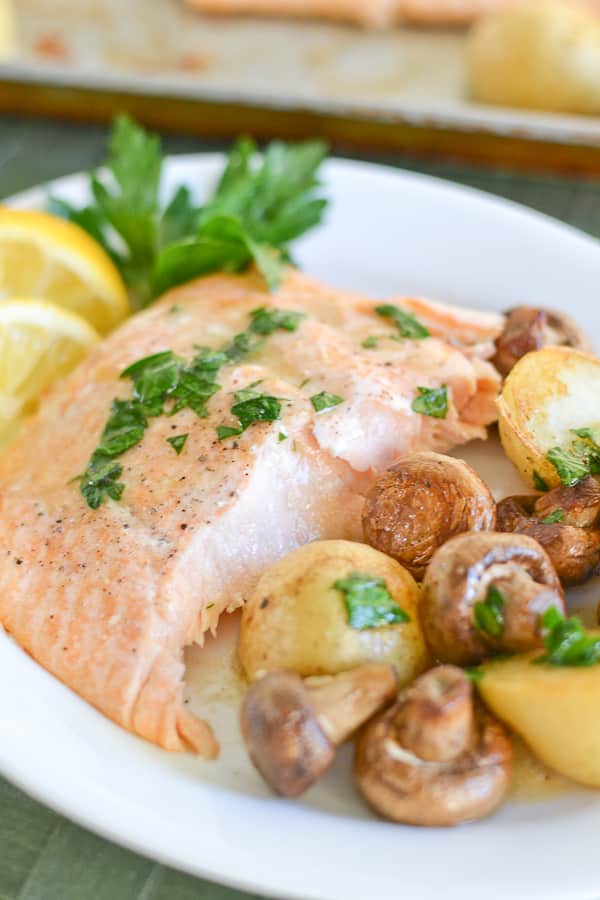 Roasted Salmon with Potatoes and Mushrooms
Ingredients
1 pound small new potatoes (about 10), scrubbed and halved (I used baby white potatoes)
8 ounces button mushrooms
3 tablespoons olive oil
Kosher salt and black pepper
1 1¼-pound piece skinless salmon fillet
1 tablespoon red wine vinegar
1 teaspoon Dijon mustard
1 teaspoon honey
2 tablespoons fresh flat-leaf parsley, chopped
Instructions
Preheat oven to 400° F.
On a rimmed baking sheet, toss the potatoes, mushrooms, 1 tablespoon of the oil, and ½ teaspoon each salt and pepper.
Roast, tossing once, until potatoes begin to soften, about 20 minutes.
Push the vegetables to the edges of the pan and place the salmon in the center. Season with ¼ teaspoon each salt and pepper.
Roast until the salmon is opaque throughout, the mushrooms are tender, and the potatoes are golden brown, 12 to 15 minutes.
Meanwhile, in a bowl, whisk together the vinegar, mustard, honey, and parsley, the remaining 2 tablespoons of oil, and ¼ teaspoon each salt and pepper. Drizzle over the salmon and vegetables before serving.
If you enjoyed this healthy baked salmon dish, here are some others that I have made:
Salmon with Creole Mustard Sauce
Broiled Salmon with Ginger Honey Glaze
Oven Poached Salmon with Honey and Thyme