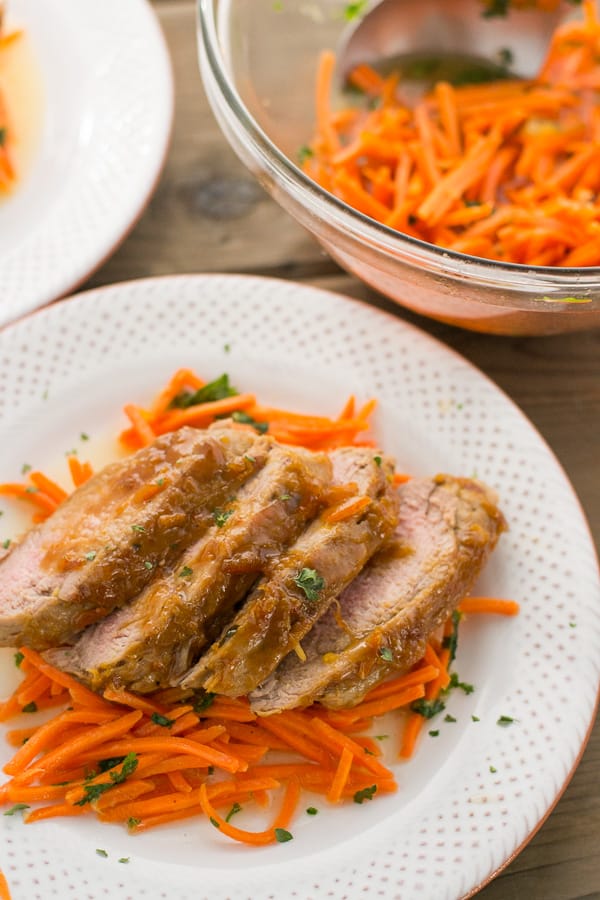 My son chose this orange ginger pork tenderloin recipe from a cookbook because of the interesting combination of orange and ginger. The carrot dressed with a mixture of orange juice, marmalade, ginger, cilantro, cumin and cinnamon makes a unique salad that complements the pork. The orange sauce on the pork tenderloin added a tangy sweetness while the cumin and cinnamon added a subtle but more developed taste. I don't cook tenderloin often but I enjoyed trying something new and making it. My whole family enjoyed eating it too and I hope you do as well. Enjoy!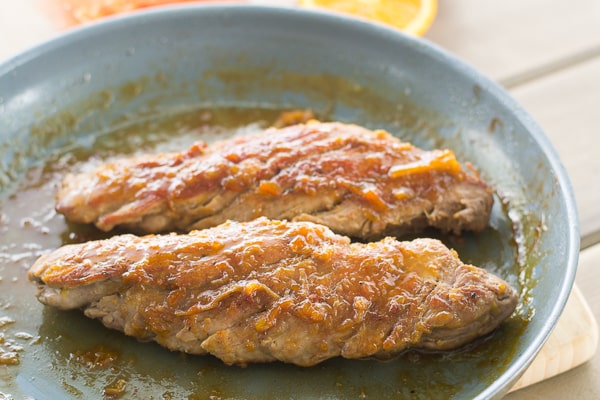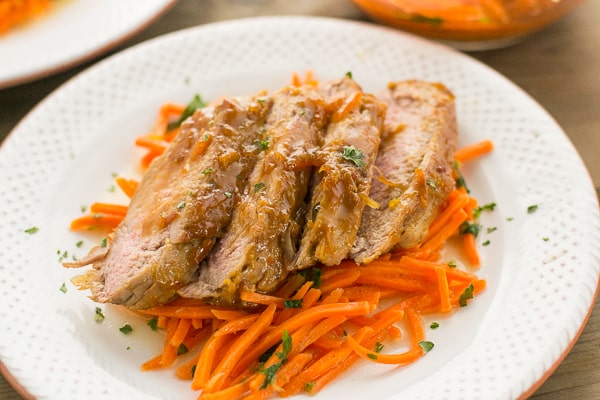 Orange Ginger Pork Tenderloin
Ingredients
¾ cup fresh orange juice
3 tbsp orange marmalade
1 tbsp grated fresh ginger
4 cups shredded carrots
2 tbsp chopped fresh cilantro
¼ tsp ground cumin
⅛ tsp ground cinnamon
Salt and Pepper
3 tbsp olive oil, divided
½ cup water
2 pork tenderloins, trimmed
Instructions
In a small bowl, combine together orange juice, marmalade and ginger.
Transfer ¼ cup of the mixture to a large bowl. Add carrots, cilantro, cumin, cinnamon, ½ teaspoon salt, ½ teaspoon fresh ground black pepper and 2 tablespoons oil to large bowl and toss to combine. Set aside.
Whisk water into the small bowl of remaining orange mixture.
Pat pork dry and season with salt and pepper. Heat remaining 1 tablespoon oil in large non-stick skillet over medium-high heat. Cook tenderloins for 5-8 minutes or until well browned on all sides. Reduce heat to medium and then add orange juice mixture and cook, turning occasionally, until sauce is thickened and meat is cooked through, about 12 minutes.
Transfer pork to cutting board, tent with foil, and let rest for 5 minutes. Slice pork into ½-inch pieces and transfer to a serving plate. Spoon glaze over pork and serve with carrot salad.
Notes
Recipe source: America's Test Kitchen, The Best Simple Recipes Cookbook