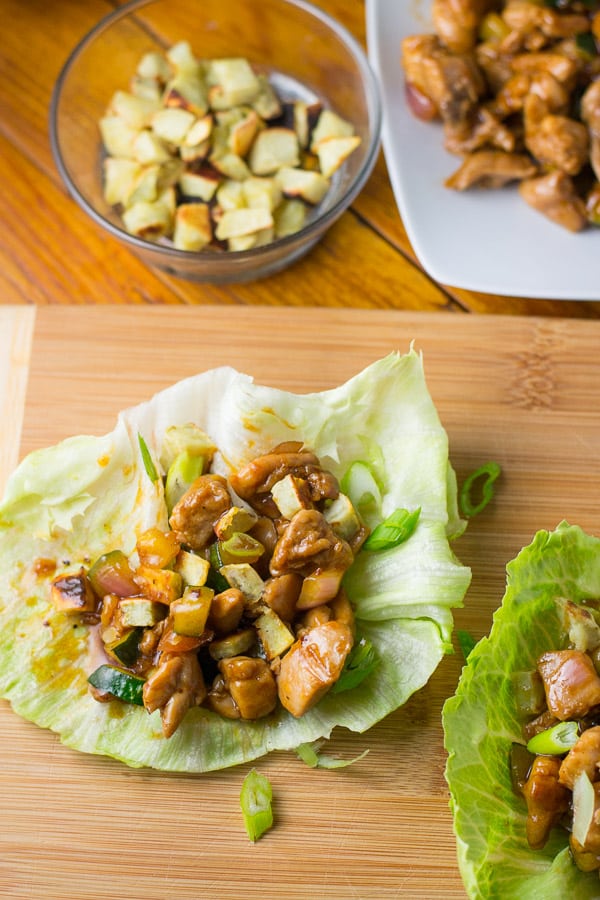 Teriyaki sauce has been my family's favorite sauce to use on any meat, seafood or stir-fries. Among our favorites are chicken teriyaki, beef teriyaki and chicken teriyaki meatballs. I usually make my own teriyaki sauce at home but sometimes, it is easier to use a store bought one, just like what I did in making these teriyaki chicken lettuce cups. As usual, I used my favorite chicken part, the thigh to make this delicious dish. Chopped chicken thighs were browned first and then returned to the pan with the sautéed zucchini, onion and garlic. The mixture was flavored with teriyaki sauce, salt and black pepper. It was then served on a lettuce leave and topped with green onions and crispy cubed sweet potatoes. The result was crunchy lettuce cups with sweet and tasty fillings. Enjoy!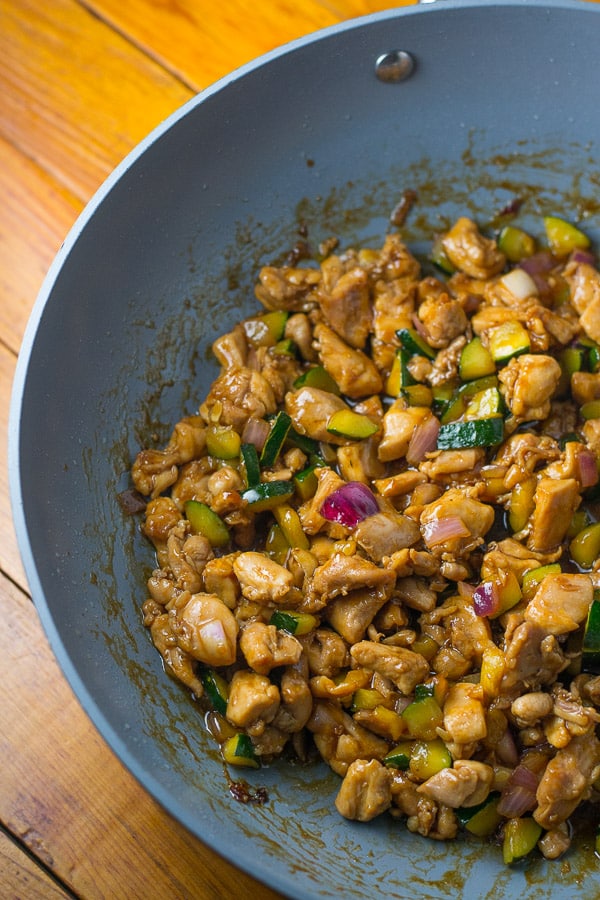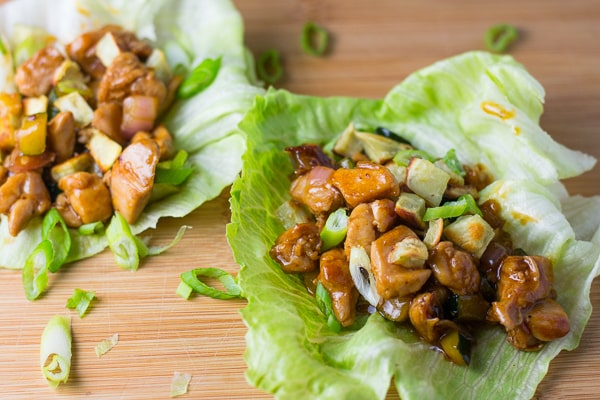 Teriyaki Chicken Lettuce Cups
Ingredients
2 small sweet potatoes, peeled and cubed
4½ tbsp canola oil, divided
¾ kosher salt, divided
1 ½ lb chicken thigh, chopped
1 small zucchini, diced
½ red onion, diced
2 cloves garlic, chopped
½ cup teriyaki sauce
⅛ tsp black pepper
Leaves of iceberg or romaine lettuce
Chopped green onion, for garnish
Instructions
Preheat oven to 425 degree F. Toss sweet potatoes with 1½ tablespoons oil and ½ tsp salt. Spread in a single layer on a baking sheet. Bake until crispy, about 15-20 minutes. Set aside.
Heat 2 tablespoons oil in a nonstick skillet over medium high heat. Add chicken and cook, stirring occasionally, for 5 minutes or until lightly browned. Transfer to a bowl.
Heat the remaining 1 tablespoon oil. Add the zucchini, onion and garlic; cook, stirring often, until tender, about 3 minutes. Return chicken to skillet and then add teriyaki sauce, black pepper and ¼ teaspoon salt. Stir to combine.
Spoon filling into open lettuce leaves then sprinkle with sweet potatoes and green onions. Roll up and enjoy.
Notes
Recipe by John Beatty as featured in the June 3, 2016 issue of People Magazine.