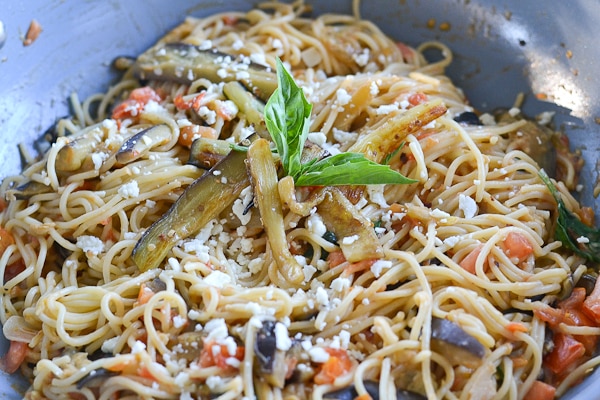 The first time I saw British chef Rick Stein make this pasta dish on his show "Mediterranean Escape", I knew right away that I needed to make this at home. I love eggplant and fried eggplant is one of my comfort foods. I usually use Chinese eggplants whenever I make a dish that requires one but in this recipe I used the larger one, aubergine, as Rick Stein calls it. Personally, sweating – sprinkling the eggplants with salt and letting them rest for 30 minutes- is an important step because not only does it reduce the eggplant's bitter taste but also helps absorb less oil when frying them. The combined taste of the fried eggplants, fresh chopped tomatoes, fresh torn basil leaves and crumbled feta cheese make this pasta dish so refreshingly good. It was a nice change from the usual spaghetti with marinara sauce I always make for my family. Enjoy!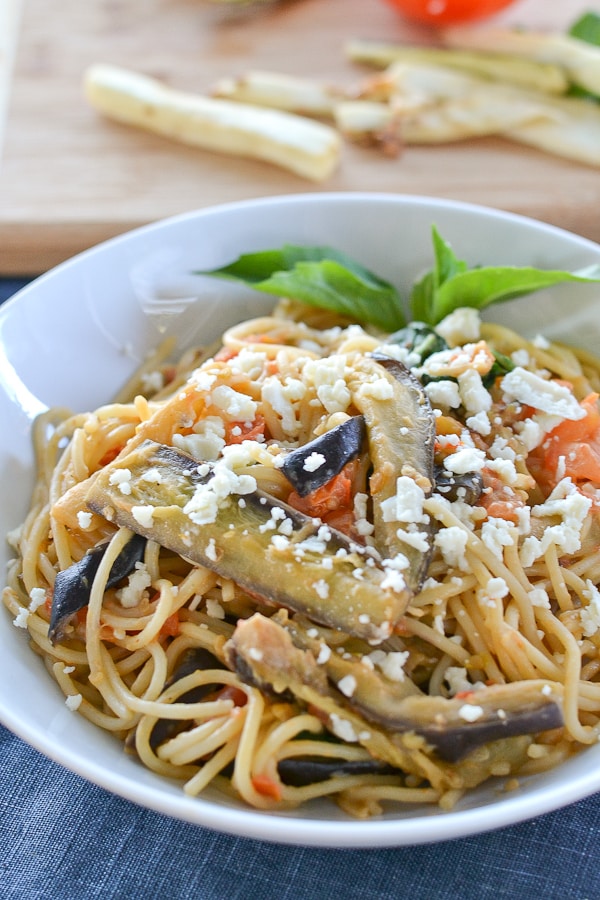 Pasta alla Norma
Ingredients
1 large firm eggplant (a.k.a. aubergine)
½ lb spaghetti
4 tbsp olive oil
2 cloves garlic, peeled and thinly sliced
¼ tsp crushed red pepper
1 lb tomatoes, chopped
½ cup crumbled feta cheese
1 bunch fresh basil
Sea salt and freshly ground pepper
Instructions
Trim stem off from eggplant. Slice lengthwise into ¼ inch strips. Place in a colander, sprinkle with salt and let rest for 30 minutes. Dry with tea cloth.
Meanwhile, cook spaghetti in salted boiling water per package instructions. Drain and set aside.
Heat olive oil in large skillet over medium high heat. Fry eggplant until they are soft and browned. Drain on paper towel and set aside.
Using the same pan, fry garlic until fragrant. Add crushed red pepper and chopped tomatoes; stir and cook until tomatoes are soft. Stir in fried eggplant strips and season with salt and pepper. Add crumbled feta cheese and torn basil leaves. Add spaghetti and toss around until heated through. Transfer to a serving plate and sprinkle with more crumbled feta cheese.
Enjoy!
Notes
Recipe inspired by Rick Stein