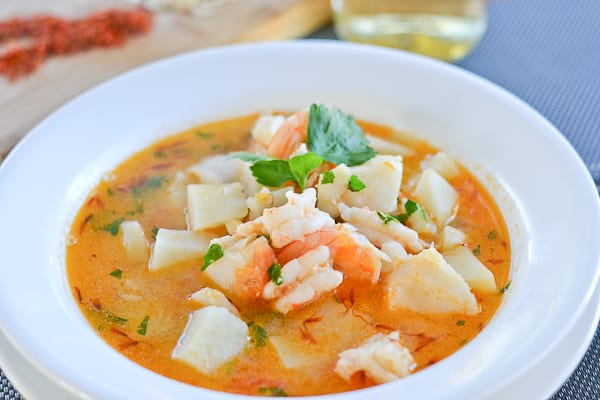 Every culture has its own way of cooking fish soup. It depends on the region and what seafood or produce is abundant and available in that region. I had made and shared many fish soup recipes before and my family loved and enjoyed each one of them. I get excited when I find a new recipe because I know for sure my family will love it. This recipe, according to the source, is Catalan's everyday fish soup. I chose to make it because it uses ingredients that are familiar to me and that I use frequently in my cooking. I love how a pinch of saffron gives this soup an orange color as well an aromatic smell and unique taste. I had this tasty soup for lunch today and it was a perfect meal to have on a cold chilly day. This soup with fish, shrimps and chunks of potatoes is heartwarming and satisfying. Enjoy!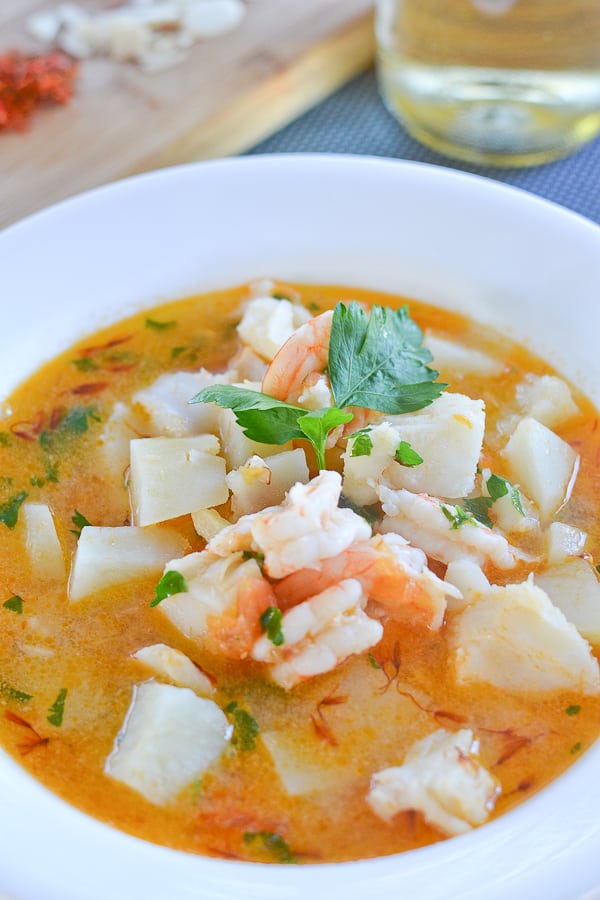 Catalan Style Fish Soup
Ingredients
½ lb firm white fish fillet (like cod or haddock), cut into 1-inch cubes
½ lb large shrimps, peeled and deveined
Sea salt and freshly ground pepper
3 tbsp olive oil
4 cloves of garlic, peeled and thinly sliced
2 small tomatoes, peeled and chopped
1 lb potatoes, peeled and cut into ½ inch cubes
½ cup dry white wine
1 ½ cup fish or chicken stock (or more as needed)
A good pinch of saffron threads
¾ tsp sugar
Sauce
10 blanched almonds
1 large clove of garlic, peeled
½ tbsp olive oil
1 tbsp chopped flat leaf parsley
Instructions
Season fish and shrimps with salt and pepper. Set aside.
Heat olive oil in a wide casserole or pan. Add garlic and tomatoes and cook, stirring often, over a medium heat for about 7 minutes or until tomatoes are reduced to a jammy consistency.
Add potatoes, wine and enough stock to cover the potatoes. Add salt to taste, saffron and sugar; simmer, covered, over a low heat for 15 minutes or until potatoes are just tender.
Make the sauce by frying almonds and whole clove of garlic in the oil until both are lightly brown; drain on paper towels. Crush and grind them to a paste with a pestle and mortar along with the parsley or you may use a food processor to do this. Add a ladleful of stock to dilute the paste. Set aside.
Add fish in the pan for 3 minutes then add shrimps and diluted sauce. Cook over a low heat until shrimps turn pink. Sprinkle with chopped parsley and serve.
Enjoy!
Looking for more soup recipes? Here are a few more that I made.
Italian Sausage and Vegetable Soup
Minestrone Soup with Bacon and Kale