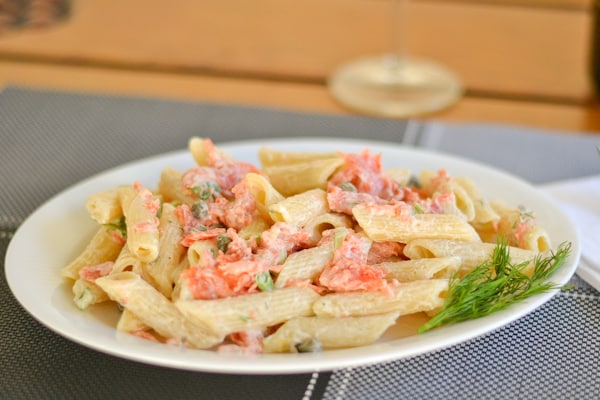 Pasta, especially spaghetti has always been my favorite ever since I was a child.  I love to try other pasta dishes and I am glad to say that I have not been disappointed yet. I always prefer tomato based sauce over the creamy ones until I tried this pasta dish. Although this Pasta with Smoked Salmon and Cream Cheese Sauce recipe uses cream cheese for the sauce, it turns out light and very refreshing. I love this pasta dish because it is so simple and easy to make. All you have to do is to cook the pasta and just mix it together with the rest of the ingredients. Furthermore, it has two of my favorite ingredients; smoked salmon and capers, which I think complement each other and makes this dish delicious. The entire family loved this delicious and filling dish. Yummy! 😀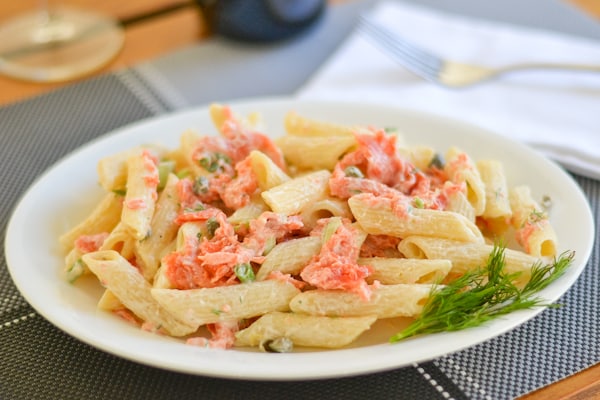 Pasta with Smoked Salmon and Cream Cheese Sauce
Ingredients
1 lb penne rigatoni
1 cup cream cheese, softened
1bunch of fresh dill, chopped
2 green onions, thinly sliced
Zest and juice of 1 lemon
1 tablespoon Dijon mustard
¼ cup drained capers
8 oz smoked salmon, cut into strips
Salt and freshly ground pepper
Instructions
Cook the pasta according to package label. Drain and reserve ¼ cup of the starchy cooking water.
Put the pasta back into the pot along with the reserved water. While the pasta is still hot, add the cream cheese, dill, green onions, lemon zest and juice, mustard and capers. Stir with a wooden spoon until the cheese melts.
Gently stir in the smoked salmon. Season with salt and pepper.
Serve and enjoy!
Notes
Recipe source: The Best of Chef at Home