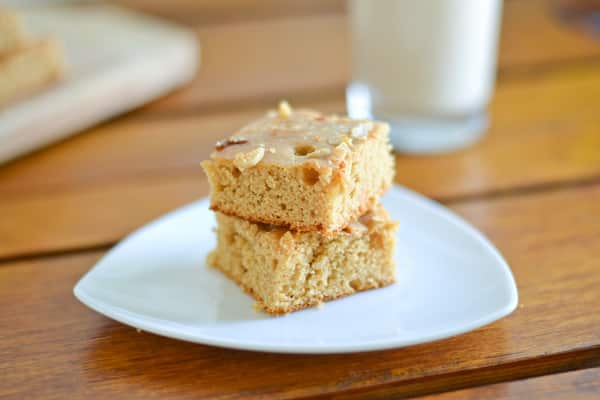 A month ago, I posted a recipe for butterscotch bars which my family and friends love so much. I have made it so many times; its ingredients are always on my grocery list. It is a good snack to have coming home after a long day at work. So, I was excited when I stumbled upon a similar recipe but instead of cashews and chocolate chips, it has peanut butter and peanuts.
Peanut butter blondies are made of flour, brown sugar, butter, peanut butter, baking powder, vanilla, salt and corn syrup. Coarsely chopped peanuts are added to the batter and are used as a topping. I was not disappointed; it tastes as good as the butterscotch bars. Yummy! 😀

Peanut Butter Blondies
Ingredients
1 ¼ cups all purpose flour
1 ½ teaspoons baking powder
¼ teaspoon salt
½ cup plain peanuts, coarsely chopped
½ cup salted butter, melted
1 cup brown sugar
⅓ cup peanut butter
3 eggs
1 teaspoon vanilla extract
½ cup corn syrup
Instructions
Preheat oven to 340°F.
In a bowl, sift together the flour, baking powder and salt. Set aside.
In a large mixing bowl, combine melted butter, brown sugar and peanut butter. Using a hand mixer beat at low speed for 1 minute.
Switched to medium speed and beat for another minute. Add the eggs and beat at low speed for 30 seconds. Add the vanilla extract and beat at medium speed for 30 seconds.
Add the flour mixture and half of the coarsely chopped peanuts; mix at low speed for 1 minute. Scrape the bottom and sides of the bowl.
Warm the corn syrup in the microwave for 40 seconds and then add to the mixture. Mix at low speed until well incorporated.
Pour the batter onto a greased 9X13 inch baking pan. Sprinkle the remaining chopped peanuts.
Bake for 35-40 minutes or until an inserted cake tester comes out clean.
Let the blondies cool for 10 minutes before removing from pan.
Let it cool completely before slicing.
Enjoy!
Notes
Recipe adapted from: Goldilocks Bakebook