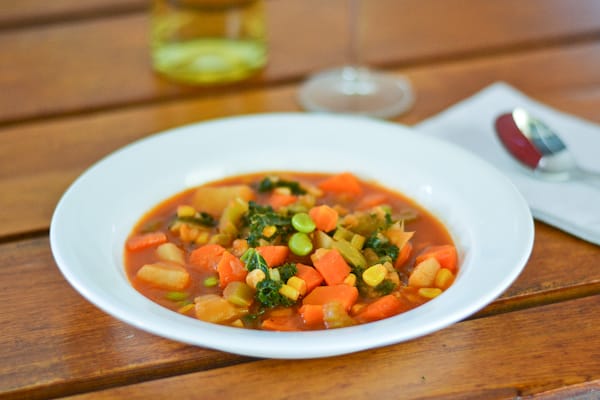 My son and I were shopping one day for the ingredients for a recipe that we wanted to try. We were in the produce area when we saw a bunch of kale. We heard so much about the health benefits of kale, so we decided to buy some to try. My son made kale chips which were baked with a little bit of olive oil and salt. It was crunchy and tasted good, a healthy alternative to potato chips. I made vegetable soup with the rest of the kale and added celery, carrots, potato, kernel corn and edamame.  What I like most about this dish is that it is healthy, quick and easy to prepare. The whole family enjoyed this chunky, delicious and hearty soup 😀

Vegetable Soup with Kale and Edamame
Ingredients
1 tablespoon olive oil
1 small onion, chopped
1 cup chopped celery
1 clove garlic, minced
4 cups vegetable broth
1 can 213 ml (7.2 oz) tomato sauce
1 cup diced carrots
1 large potato, peeled and diced
1 cup frozen kernel corn
1 cup frozen shelled edamame (green soybeans)
2 leaves kale, chopped
Sea salt and freshly ground pepper to taste
Instructions
Heat the oil in a large pot over medium heat. Add onion and celery and cook for 5 minutes or until onion is translucent.
Stir in garlic and cook for 2 minutes or until fragrant.
Pour in vegetable broth and tomato sauce and simmer for 10 minutes.
Add carrots and potatoes and simmer for 10-15 minutes or until carrots are tender.
Add corn, edamame and kale. Continue to simmer for another 3 minutes. Season with salt and pepper.
Serve and enjoy!
Notes
Recipe adapted from allrecipes.com