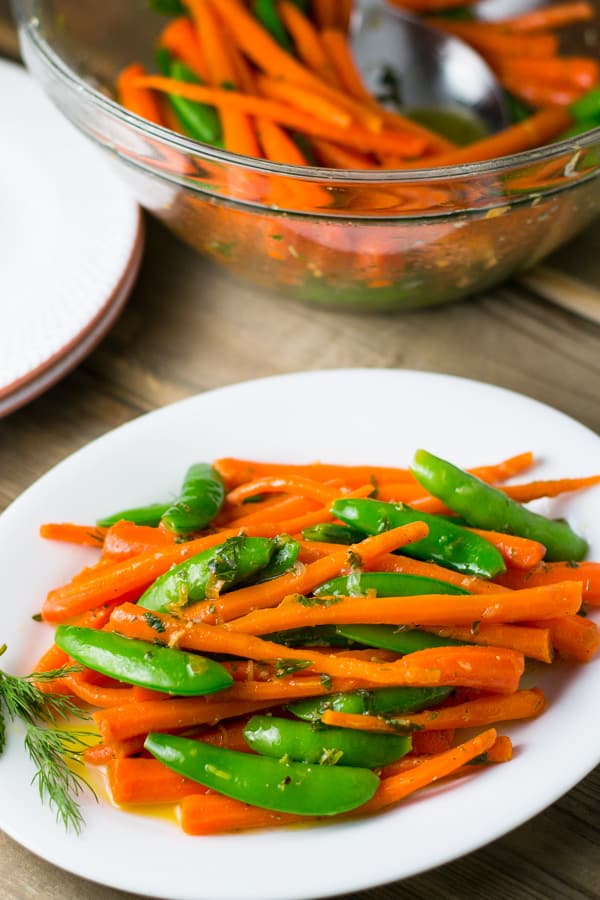 I love this dish so much! I have been having it for lunch at work for the last three days and I have not gotten tired of it. It's amazing how the carrots and sugar snap peas are still crunchy even after being in the fridge for few days. The mixture of lemon zest and juice, extra virgin olive oil, fresh chopped mint and dill and salt and pepper were just perfect for dressing these two vegetables. This peas and carrots with lemon, dill and mint are not only simple and easy to make but healthy and nutritious as well. Enjoy!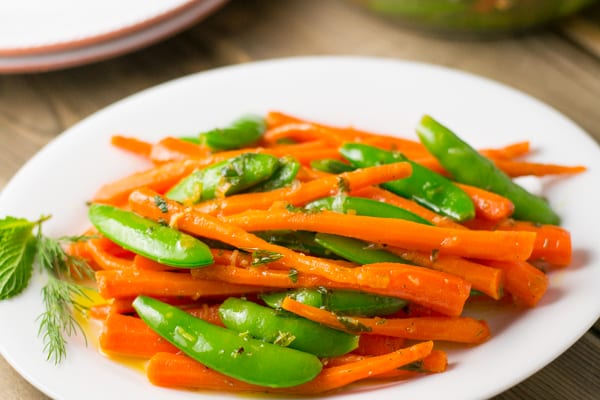 Peas and Carrots with Lemon, Dill, and Mint
Ingredients
½ tsp lemon zest
¼ cup fresh lemon juice
½ cup extra-virgin olive oil
1 tbsp minced fresh mint
1 tsp minced fresh dill
Kosher salt and freshly ground black pepper
2 bunches small young carrots (about 2 lbs)
8 oz fresh sugar snap peas, trimmed and strings removed
Instructions
In a large bowl, whisk together lemon zest, juice, oil, mint, dill, ½ teaspoon salt, and ⅛ teaspoon pepper. Set aside.
Trim both ends of carrots and then peel them. In a large pot fitted with a steamer insert, bring an inch of water to a boil over high heat. Have ready a large bowl of ice water. Lay the carrots in the basket of the steamer, cover tightly, and steam until crisp-tender, 4 to 5 minutes. Cool the carrots in the ice water for a few minutes; then lift them out and add to the dressing.
Steam the peas in the same pot until barely tender, about 3 minutes. Cool them in the ice water for a few minutes, drain, and add to the carrots. Stir to coat the vegetables in the dressing. Taste and add more salt, if needed.
Let the vegetables sit for at least 30 minutes and up to 1 hour, tossing occasionally. With a slotted spoon, transfer the vegetables to a serving platter. Serve chilled or at room temperature.