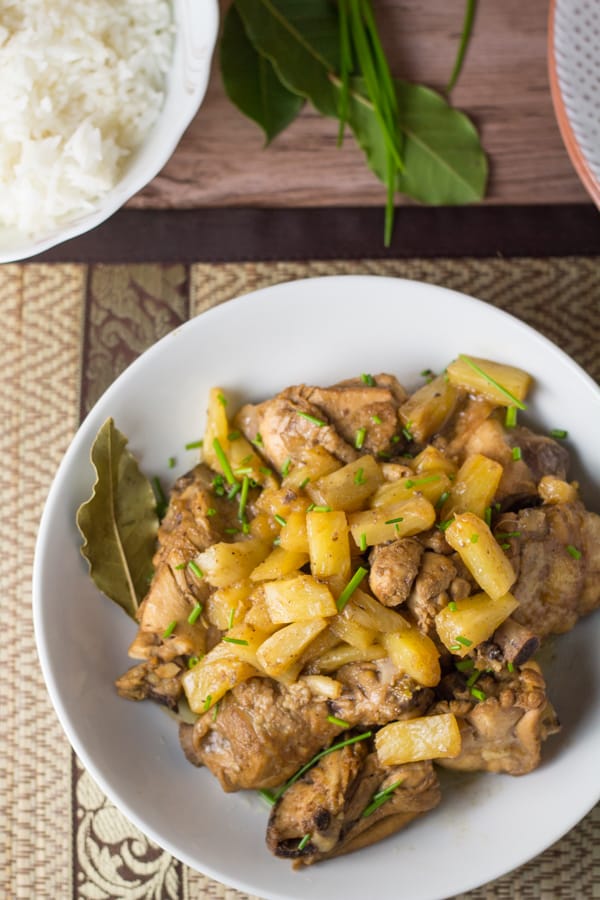 It does not look like it, but spring is almost here. In Vancouver, we are still getting some snow, but luckily the rain has washed most of it away. I know Spring is near because the herbs from my garden are slowly coming alive. I ended up using bay leaves and chives in this pineapple chicken adobo.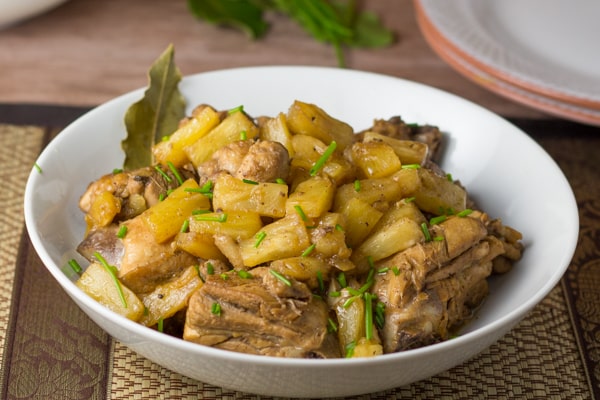 Chicken adobo is a very well known Filipino dish. This recipe is similar except it uses pineapple tidbits to make the dish sweeter. First, the chicken was marinated in a mixture of vinegar, soy sauce, pepper, bay leaf and garlic for 30 minutes. It was then drained from the marinade and browned. The browned chicken was put back in the pan with the reserved marinade and water and cooked until tender. Pineapple tidbits was added at the last minute of cooking time. The result was flavorful chicken in a delicious sauce. Yum!
Pineapple Chicken Adobo
Ingredients
2

lbs

chicken pieces of your choice

1/3

cup

vinegar

3

tablespoons

soy sauce

1/4

teaspoon

pepper

1

bay leaf

2

cloves

garlic,

minced

¼

cup

water

2

tablespoons

vegetable oil

¼

cup

water plus more as needed

1

can

(398 ml) pineapple tidbits,

drained
Instructions
In a large bowl, combine together chicken, vinegar, soy sauce, pepper, bay leaf and garlic. Cover and let marinade for at least 30 minutes. Drain well and reserve marinade. Pat chicken pieces dry with paper towels.

Heat oil in a frying pan over medium high heat. Pan fry chicken, in batches, until golden brown.

In a large skillet, combine browned chicken, reserved marinade and water. Bring to a boil over medium high heat then reduce heat to medium. Cover and let simmer for 15 minutes or until chicken is tender, adding more water as needed.

Stir in pineapple and cook for couple more minutes.

Serve with steamed rice.