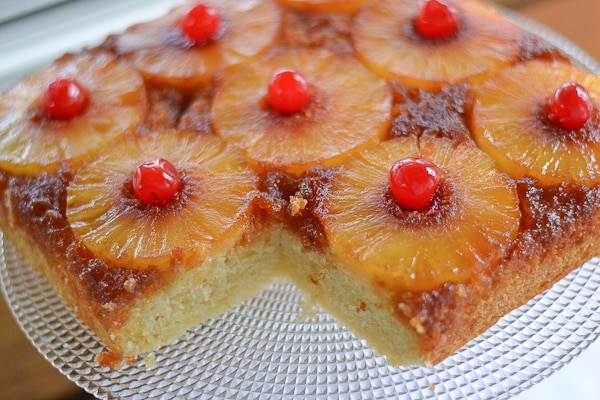 Here's another cake we used to buy from Goldilocks, a famous Filipino bakery, when we were growing up. It has been such a long time since I ate this cake and completely forgotten how incredibly delectable it is.  I have two weeks off from work, so I have been spending lots of time in the kitchen cleaning, organizing, cooking and baking. Pineapple upside down cake was in my long list of what to make during this time. I made this appealing cake yesterday and my family and I had it after dinner. It was moist, delicious and very satisfying.  It was a perfect treat to end a busy day.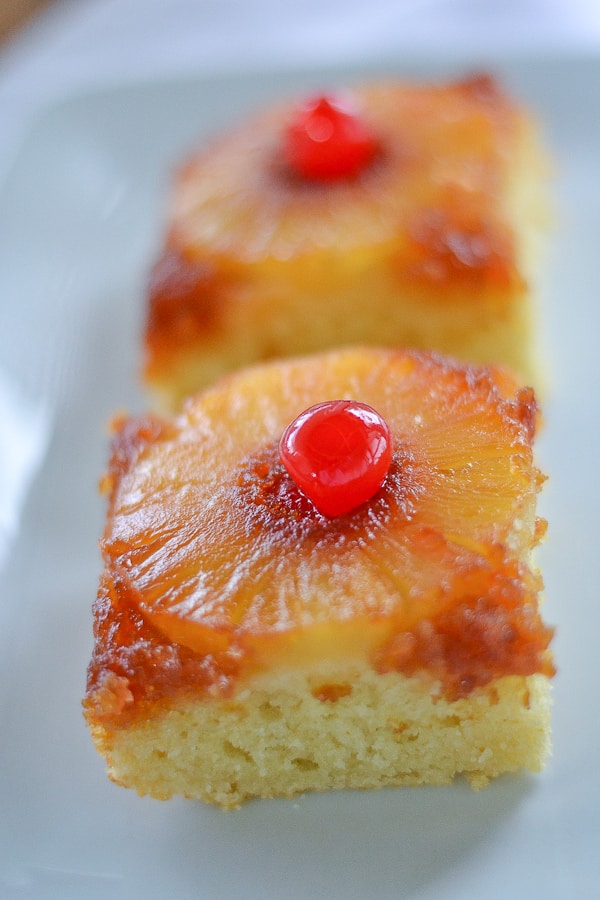 Pineapple Upside Down Cake
Ingredients
Topping
¾ cup granulated sugar
⅛ cup water
9 pineapple rings (one 19 oz/540ml can of pineapple slices contains 10 pineapple rings)
9 maraschino cherries
Cake
1 ¾ cups cake flour
½ tsp salt
1 tbsp baking powder
¾ cups unsalted butter, softened
1 cup granulated sugar
3 medium eggs
1 tsp vanilla extract
⅓ cup evaporated milk
¼ cup cold water
Instructions
Preheat oven to 350°F.
In a 9-inch square pan, heat and caramelize ¾ cup sugar over medium heat until light brown in color. Add water and cook for 1-2 minutes or until incorporated.
Arrange pineapple rings over the caramelized sugar and place a cherry in the center of each ring. Set aside.
Sift together cake flour, salt and baking powder. Set aside.
In a mixing bowl with paddle attachment, cream butter and sugar at medium speed, until light and fluffy. Add eggs, vanilla extract, milk and water and continue mixing for around 1 ½ minutes until combined.
At low speed, gradually add dry ingredients to the wet ingredients, scraping sides of bowl occasionally. Increase speed to medium and mix for another 1 ½ minutes. Pour the batter into the prepared pan.
Bake for 30-40 minutes or until toothpick inserted in center comes out clean. Baking time may vary, depending on the oven so start checking the cake for doneness at 30 minutes time.
Allow the cake to cool for 5 minutes in pan. Then run a paring knife or spatula around the edges of the cake and gently invert onto a serving platter. Allow the cake to cool completely before slicing.
Serve and enjoy!
Notes
Recipe source: Goldilocks Bakebook.