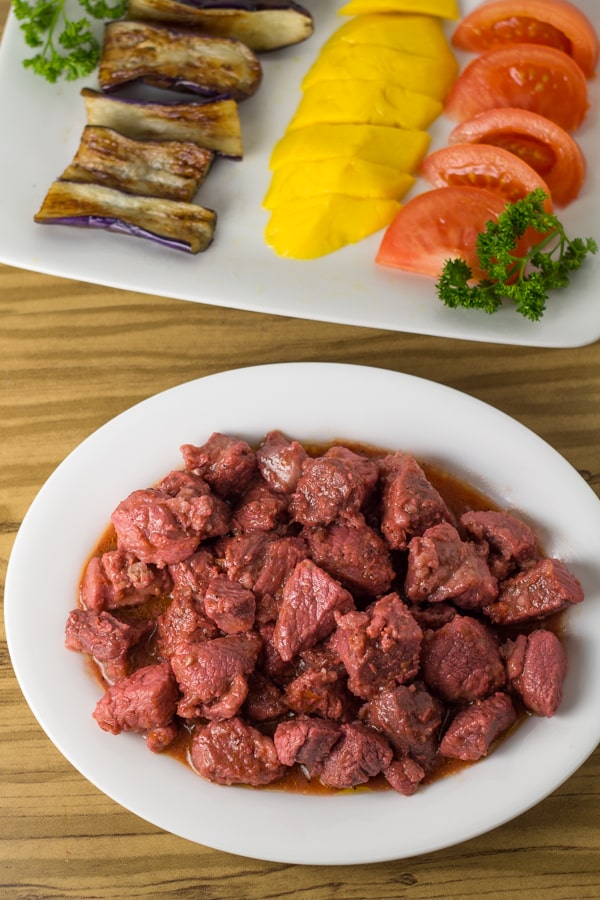 Pork binagoongan is a Filipino style dish consisting of pork with sauteed shrimp paste. This salty, savory and sour dish is one of those Filipino authentic dishes that I personally think should be part of the collection of recipes in my blog. I know of a few Filipinos who have moved to a different country and are missing this dish from home. I can relate because I was once in the same position twenty years ago. Filipinos love pork binagoongan despite its pungent smell. There are many ways of cooking this dish, but no matter how it is cooked, it will always be popular among Filipinos.
In this dish, the pork pieces are first sautéed with garlic, onion and tomato and then simmered in a sauce of shrimp paste, water and vinegar. It is best cooked for an hour or so until the pork is melt-in-the-mouth tender.  It can be eaten with rice as a main dish or as a side dish for grilled or fried fish, tortang talong (eggplant omelette), or boiled okra. My favorite way of eating it is with rice, fried eggplant, tomatoes and mangoes that are almost ripe (manibalang na mangga).
Ingredients
Pork shoulder or belly – This is the main protein for this recipe. It is cut into 1-inch cubes and stewed in shrimp paste until melt in your mouth tender.
Fat – Olive oil
Aromatics – Garlic, onion, tomatoes
Shrimp paste, vinegar and sugar – a perfect blend of salty, sour and sweet taste to this dish
How to make pork binagoongan
To make this pork binagoongan, saute the pork in the aromatics until brown. Next, add the shrimp paste and stir until combined. Add the water next and let the mixture cook until the pork is melt in your mouth tender. The vinegar and sugar are added last to balance the salty flavor of this dish. The mixture is further cook until the desired consistency is reached.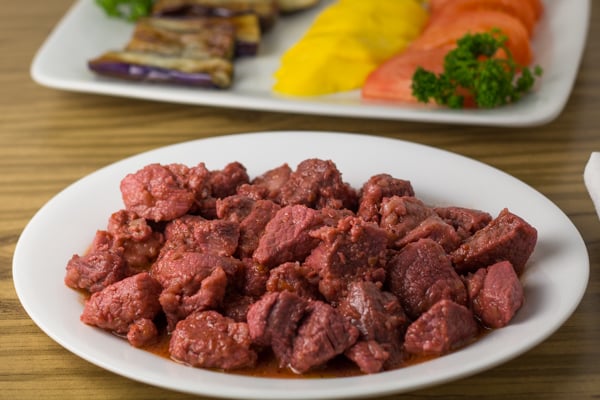 Tips
This dish is good if the pork is cooked until melt-in-your-mouth tender. To achieve this, the pork is cook longer on medium heat.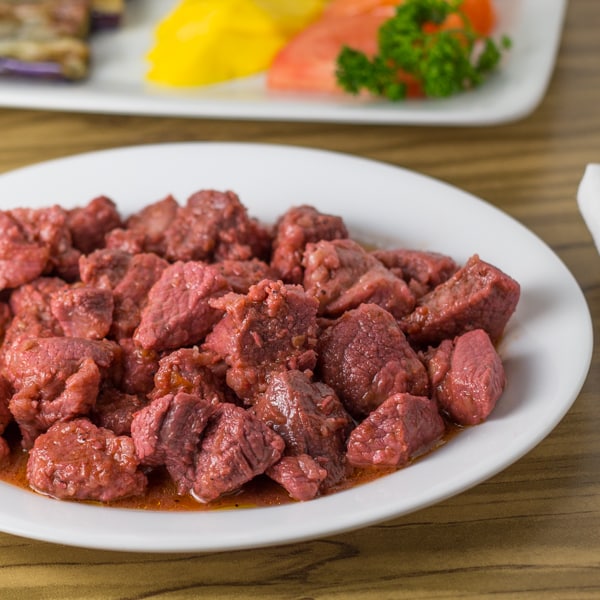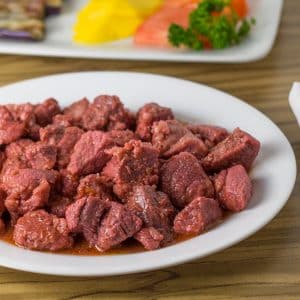 Pork Binagoongan (Sautéed Pork with Shrimp Paste)
Pork binagoongan is a popular Filipino dish consisting of pork, sauteed shrimp paste, tomatoes and onions. Vinegar and sugar are added to balance the salty flavor of the shrimp paste.
Ingredients
2

lbs

pork shoulder or belly

, cut into 1-inch cubes

2

tbsp

olive oil

2

cloves

garlic

, chopped

1

small onion

, chopped

1

medium tomato

, chopped

½

cup

bottled sautéed shrimp paste

, regular or spicy

1

cup

water plus more as needed

2

tbsp

white vinegar

1

tbsp

white sugar
Instructions
Heat the oil in a heavy pan over medium high heat. Add the garlic and onion, and sauté for 2 minutes. Add the tomatoes and sauté until onion has softened, about 2 minutes.

Add the pork and saute until brown and no longer pink, about 4 minutes. Add the shrimp paste and stir until combined with the pork.

Add the water and bring to a boil. Lower the heat to medium, cover and cook until pork is tender, about 1 hour. Check, every 15 minutes, stirring and adding ½ cup of water each time if running low on liquid.

Add the vinegar and cook for 2 minutes. Stir in the sugar and cook until desired amount of sauce is achieved.

Serve with steamed and your favorite side dishes.
Nutrition
Calories:
232
kcal
Carbohydrates:
5
g
Protein:
26
g
Fat:
12
g
Saturated Fat:
3
g
Cholesterol:
181
mg
Sodium:
439
mg
Potassium:
390
mg
Fiber:
1
g
Sugar:
3
g
Vitamin A:
171
IU
Vitamin C:
5
mg
Calcium:
63
mg
Iron:
2
mg