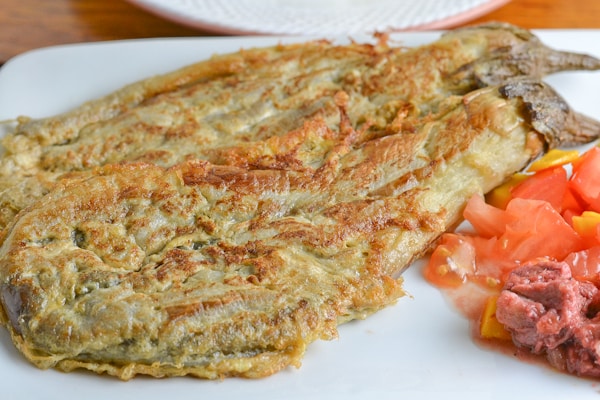 Eggplant was the favorite vegetable in our household when I was growing up.  Along with fried eggs, fried eggplant with rice was a common sight on our breakfast table.  It is a vegetable commonly used in most Filipino dishes. Some other examples are pinakbet (shrimp and vegetable stew) and sinigang (tamarind soup). Eggplant omelette is another way our family cooked eggplant growing up. It is normally grilled or broiled, skin peeled, coated with beaten eggs and then fried. My mom usually charred the eggplants on the flames of the gas stove but in this recipe, I cooked and softened the eggplants in boiling water. I learned this method from my cousin and I have been using it ever since. My family usually enjoys eggplant omelette with pork binagoongan (sautéed pork with shrimp paste), tomatoes and semi-ripe mango or you can have it simply with ketchup. Yummy!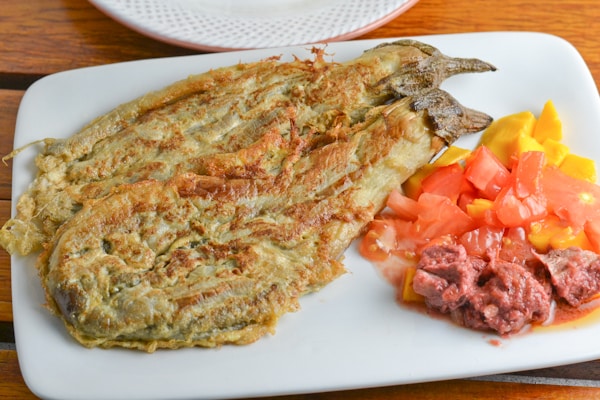 Eggplant Omelette
Ingredients
4 medium size Chinese eggplants
4 eggs, beaten
Sea salt
Vegetable oil for frying
Instructions
Cooked eggplants in boiling water until soft (around 20 -25 minutes). Let it cool. Peel off the skin and on a plate, flattens the meat with the back of a fork. Sprinkle with salt.
Lay the eggplants on a square casserole. Pour the beaten eggs over it. Make sure the eggplants are fully coated with eggs.
Heat oil in a frying pan over medium high heat. Bring the casserole close to the pan and gently lower the eggplant onto the heated oil, spooning some egg mixture on top of the eggplant.
Fry until golden brown and eggs have set, flip over and brown the other side.
Drain on paper towel. Serve with steamed rice. Enjoy!