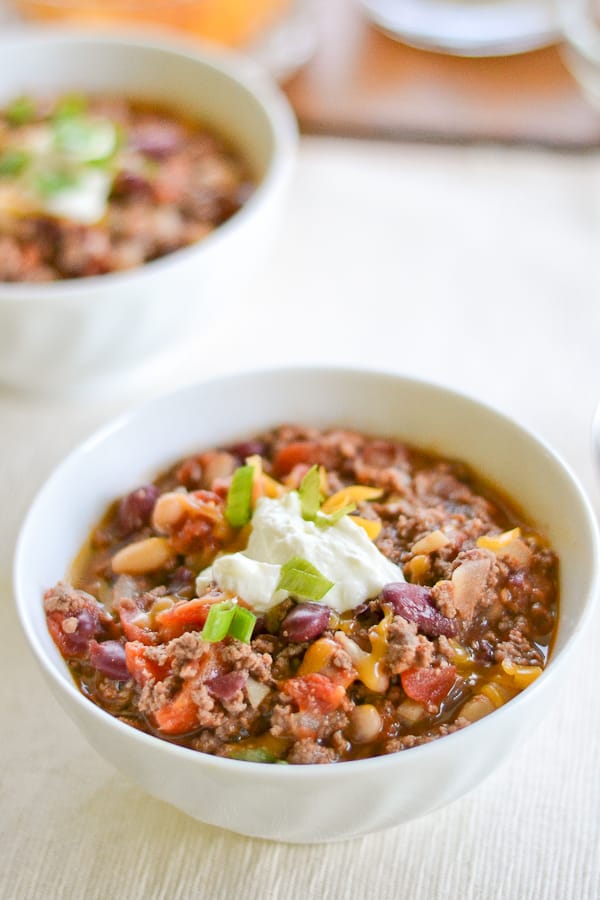 Although we are having lots of sunny days, fall has definitely arrived in Vancouver. Leaves are changing colors, taking on different shades of red, yellow and brown. It is such a beautiful sight to behold. Furthermore, mornings are getting colder and lots of people are getting sick from the change of season. Soups, stews and chilis are the preferred dishes to cook at this time of the year. And I am no exception; I have been making lots of these dishes lately.
This quick chili recipe is not only hearty but also filling. Other kinds of beans may be used but I prefer red kidney beans and cannellini beans. This chili dish is so easy to make, in 35 minutes time, you have a delicious and comforting dish to enjoy on a cold fall night!

Quick All-American Chili
Ingredients
2 tablespoons vegetable oil
1 onion, chopped
1-2 tablespoons chili powder
4 cloves garlic, minced
2 teaspoons ground cumin
1 ½ lbs lean ground beef
1 (14oz) can red kidney beans, rinsed
1 (14oz) can cannellini beans, rinsed
1 (28oz) can diced tomatoes
Salt and pepper
Toppings
Shredded cheddar cheese
Sour cream
Chopped green onions
Instructions
Heat oil in Dutch oven over medium-high heat until shimmering. Add onion and cook until softened, about 4 minutes. Add chili powder, garlic, and cumin and cook until fragrant, about 30 seconds.
Add beef, breaking up any large pieces with wooden spoon, until no longer pink, about 5 minutes. Add beans and tomatoes and their juices and cook until thickened, about 15 minutes. Season with salt and pepper to taste.
Transfer to a bowl and topped with cheddar cheese, sour cream and chopped green onions.
Enjoy!
Notes
Recipe source: America's Test Kitchen: The Best Simple Recipes.