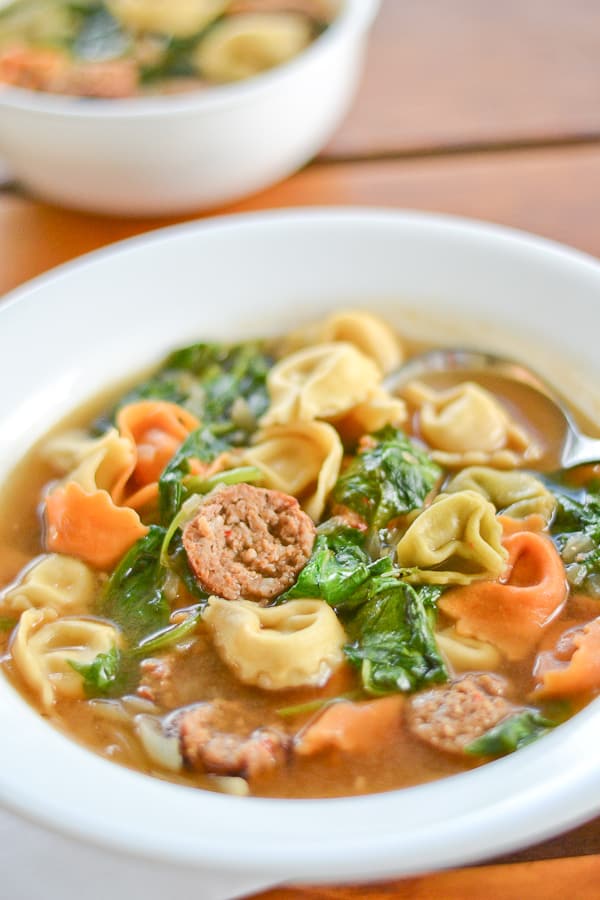 I have been feeling under the weather these last few days and soups, as always, have been making me feel better. Aside from making my favorite,  Tinolang Manok (Chicken in Papaya Soup), I also made this sausage and pasta soup. It is a nice change from the usual type of soup that I would normally make. It simply consists of slices of sausages, cheese tortellini and spinach. This delicious soup does not only warm my body but also my spirit.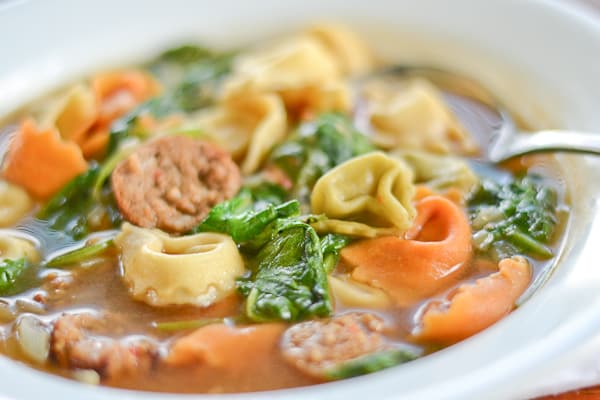 Sausage and Tortellini Soup with Spinach
Ingredients
1 tablespoon olive oil
1 pound hot or mild Italian sausage (3 pieces)
1 onion, chopped
2 garlic cloves, minced
6 cups chicken broth
1 bay leaf
1 (9-ounce) package cheese tortellini (dried or fresh)
3 ounces (3 cups) baby spinach
Salt and pepper
Instructions
Heat 1 tablespoon oil in Dutch oven over medium high heat. Add sausages and cook, rolling occasionally, until browned all over, about 8-10 minutes. Transfer to paper towel-lined plate.
Using the same pot (add more oil if needed),add onion and cook over medium heat until softened, about 3 minutes. Add garlic and cook until fragrant, about 30 seconds. Stir in broth and bay leaf, scraping up any browned bits, and bring to boil.
Slice sausage ½ inch thick and add to the pot. Stir in tortellini and simmer over medium heat until pasta is tender, 10-12 minutes. Stir in spinach and cook until just wilted, about 1 minute. Discard bay leaf. Season with salt and pepper to taste.
Serve and enjoy!
Notes
Recipe source: America's Test Kitchen: The Best Simple Recipes