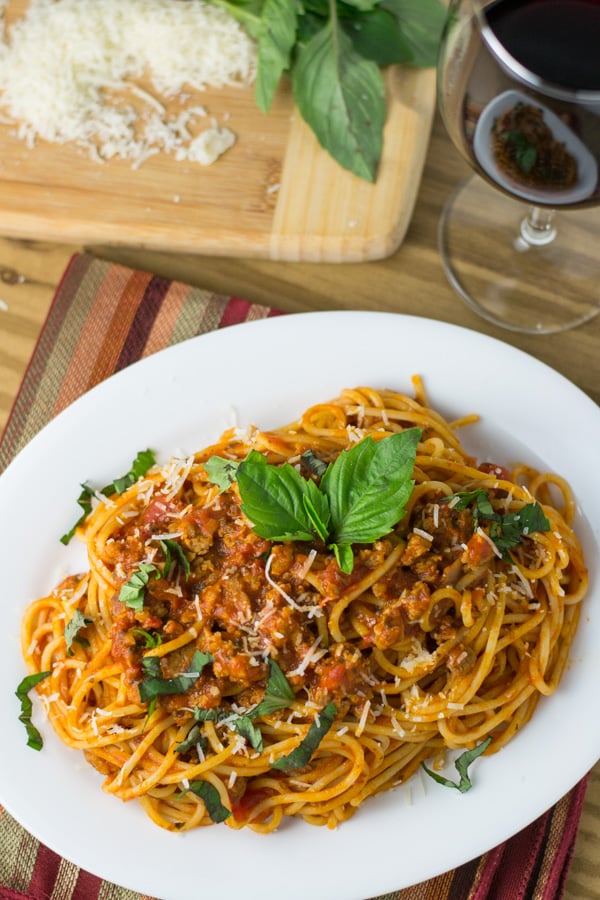 Growing up, I have fond memories of my uncle's family making spaghetti every Sunday afternoon as a snack. They lived next door, so once in a while, they would share some with us. I loved their spaghetti, which like other Filipino spaghettis, is sweet and consists of sliced hotdogs. I still like it but I have since acquired a different taste for my spaghetti. Our family's favorite way of eating spaghetti is with Italian sausage and marinara sauce. I learned how to cook this quick Italian sausage spaghetti from my former neighbor and friend. This spaghetti recipe is my go to dish when I am pressed for time. This dish makes my life easy; it uses Italian sausage and store bought marinara sauce. Compared to ground beef, Italian sausage has been seasoned and is more flavorful. The chopped fresh basil adds a punch of aroma while the grated Parmigiano Reggiano adds a deep savory finish to the sauce. Enjoy!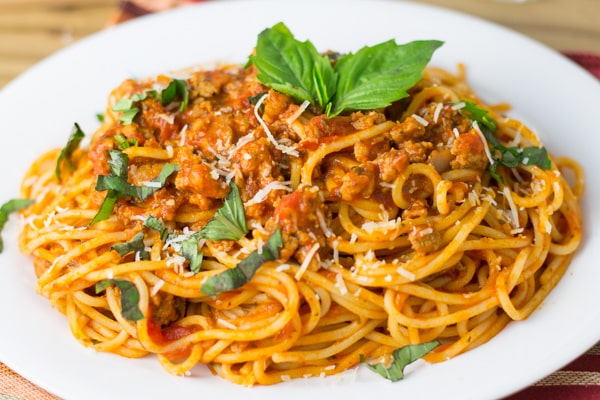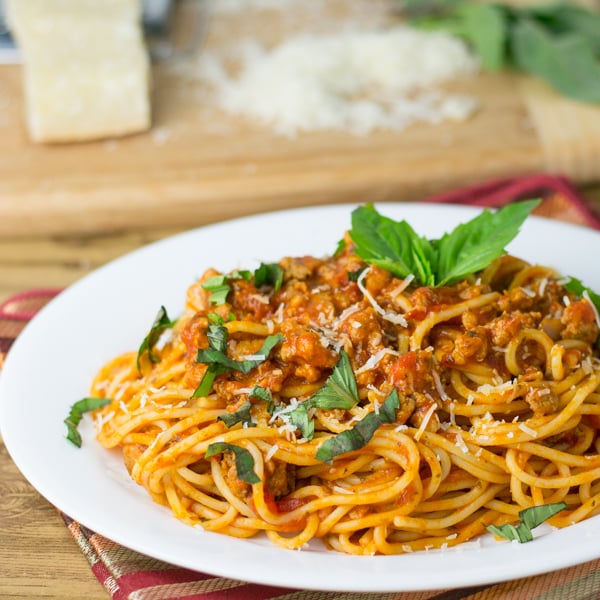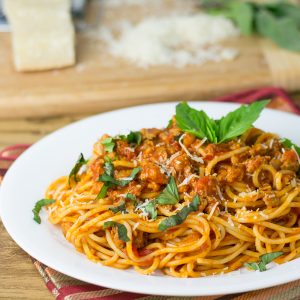 Quick Italian Sausage Spaghetti
Ingredients
500

g

of spaghetti noodles

1

tbsp

olive oil

3

mild Italian sausages

casings removed

2

680 ml jars of marinara sauce

2

tbsp

chopped fresh basil

¼

cup

grated Parmigiano Reggiano or Parmesan cheese plus more garnish
Instructions
In a skillet, heat oil over medium high heat. Add the sausages, stirring and breaking up the pieces into chunks. Cook until most of the juice from the meat has evaporated and the meat is brown, about 5 minutes.

Reduce heat to medium and then add marinara sauce. Cover and let simmer, for 15 minutes, stirring occasionally. Stir in the cheese and chopped fresh basil, cover and remove from the heat.

While the sauce is simmering, cook spaghetti noodles in salted boiling water until tender but firm. Drain in a colander and toss with 1 tablespoon oil to prevent sticking.

To serve, in a large bowl, toss hot pasta with sauce and sprinkle with the grated cheese.