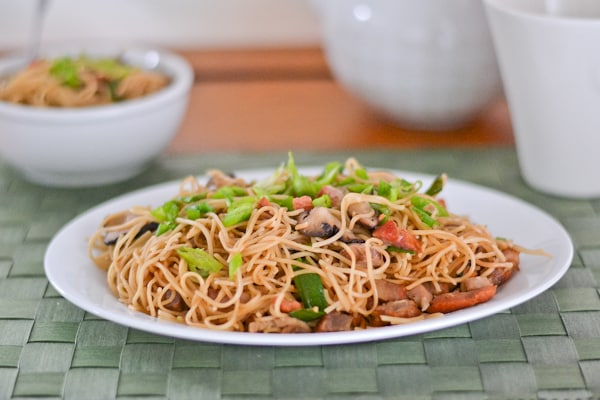 It has been cold and wet here in Vancouver the past few days. On top of that, everyone has been getting sick, including me. After getting tired of eating takeouts for couple of days, I decided to make something delicious and easy to prepare. So, I made this roast pork lo mein which I stumbled upon a Chinese cookbook.
Roast pork lo mein consists of ingredients that you can easily find in any Asian grocery store. Its main ingredient, barbeque pork, is my favorite to use in other dishes like fried rice and soup. The addition of fresh shitake mushrooms makes this dish more tasty and popular with my family. This noodle dish is so simple, delicious and easy to make 🙂

Roast Pork Lo Mein
Ingredients
½ lb Chinese barbeque pork, cut into small, bite-sized pieces
12 oz thin dried egg noodles
2 tablespoons sesame oil
2 tablespoons vegetable oil
2 cloves garlic, minced
1 teaspoon grated ginger
3 green onions, cut into 2-inch pieces
6 fresh shitake mushrooms, thinly sliced
Sauce:
3 tablespoons soy sauce
1 ½ tablespoons oyster sauce
1 ½ tablespoons Chinese rice wine or dry sherry
1 ½ teaspoons honey
Instructions
Bring a pot of water to a boil. Add the noodles and cook according to the package instructions. Drain the noodles, rinse under cold water, and drain again. Return noodles to the pot, toss with the sesame oil and set aside.
In a small bowl, combine all sauce ingredients. Set aside.
Heat a wok or large skillet over medium high heat. Add the oil and swirl to coat the bottom. Add the garlic, ginger and green onions and stir fry for 30 seconds. Add the mushrooms and cook for 1-2 minutes or until softened.
Add the noodles and pork. Pour in the sauce and toss with tongs or a fork until everything is incorporated. Transfer to a plate and serve.
Notes
Recipe source: The Chinese Takeout Cookbook