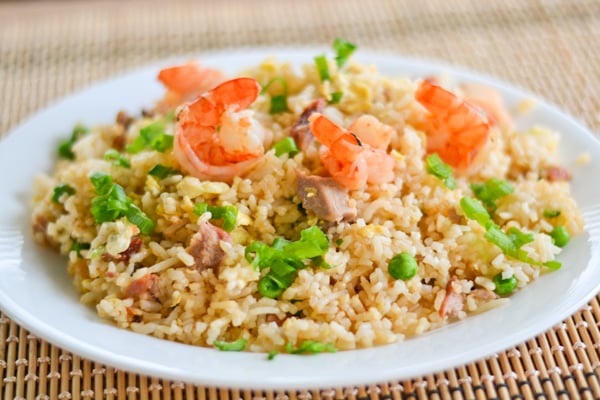 I love making fried rice. It is quick and easy to prepare and so I don't have to spend that much time in the kitchen.  It is an ideal dish to make whenever I am pressed for time. Kids love it because just like spaghetti, it is a complete meal by itself. Some of my family's favorites are chicken and salted fish fried rice, salmon fried rice, shrimp fried rice and Yangzhou fried rice.
Yangzhou fried rice is similar to the shrimp fried rice I posted three months ago except that the former has Chinese barbeque pork as an additional main ingredient. This recipe uses the most basic and easy to find ingredients. It is delicious and very satisfying; reasons why I believe it is the most popular of all Chinese fried rice 🙂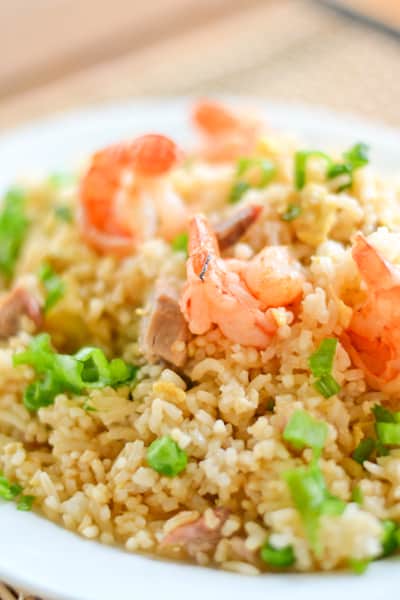 Yangzhou Fried Rice
Ingredients
4 cups cold cooked white rice
3 tablespoons vegetable oil
4 eggs, lightly beaten
½ lb shrimps, peeled, deveined and diced
2 green onions, sliced thinly
½ lb Chinese barbeque pork, diced
1 cup frozen green peas
2 tablespoons liquid seasoning or soy sauce
salt and pepper
Instructions
Season the eggs with salt and pepper.
Heat 1 tablespoon oil in a wok or a large non- stick frying pan. Add the beaten eggs; pushing the set egg towards the center and tilting the pan to let the unset egg run to the edges. Cook until firm and then break up into large pieces. Transfer into a plate and set aside.
Using the same pan, add 1 tablespoon oil. Add the shrimp and stir-fry for 1 to 2 minutes, or until cooked through. Transfer to a plate and set aside.
Swirl in the remaining tablespoon oil. Add the green onions and stir-fry for 20 seconds. Add the rice, stirring and breaking up any clumps.
Add the barbeque pork, peas and chopped eggs. Stir-fry for another 2 minutes or until the peas have been cooked through.
Return shrimps to the pan and add liquid seasonings or soy sauce. Stir until the mixture is well blended.
Serve and enjoy!