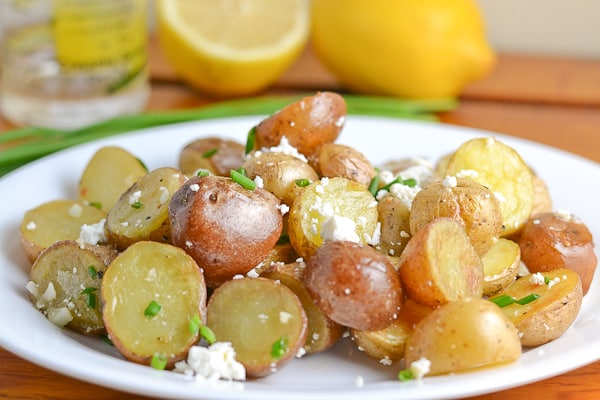 This recipe was created using left-over baby potatoes and feta cheese I had in my pantry and fridge. Roasting potatoes is my family's favorite way of eating them. Coating them with the lemon vinaigrette and feta cheese was a great way to add flavor to these babies. After adding a sprinkle of fresh chopped chives from my garden, my family and I had this fabulous side dish with the brown sugar glazed salmon I made for dinner. Enjoy!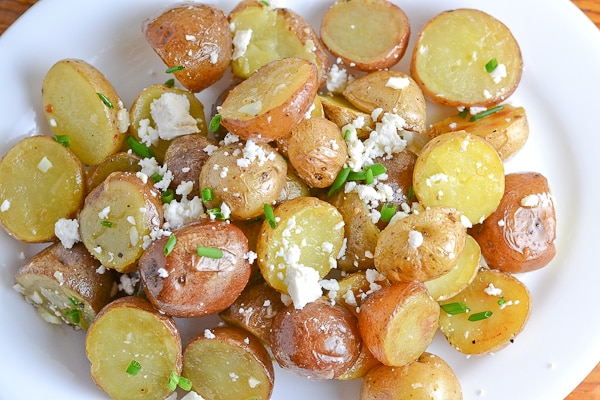 Roasted Potato with Feta Cheese and Lemon Vinaigrette
Ingredients
2 lbs baby potatoes, halved
2 tbsp canola oil
¼ cup crumbled feta cheese
Chopped fresh chives (optional)
Lemon Vinaigrette:
2 tbsp red wine vinegar
1 tbsp Dijon mustard
1 clove garlic, minced
¼ cup olive oil
1 tbsp lemon juice
Salt and freshly ground pepper, to taste
Instructions
Preheat oven to 400 °F. Line baking sheet with parchment paper.
Coat potatoes with canola oil and then spread in a single layer on the prepared pan. Roast for 30 minutes or until fork tender.
In a large bowl, whisk together vinegar, Dijon mustard and garlic. Slowly stream olive oil into the vinegar mixture while whisking briskly. Beat lemon juice into the mixture. Season with salt and pepper. Stir in roasted potatoes and feta cheese.
Serve with a sprinkle of chives, if using.
Enjoy!