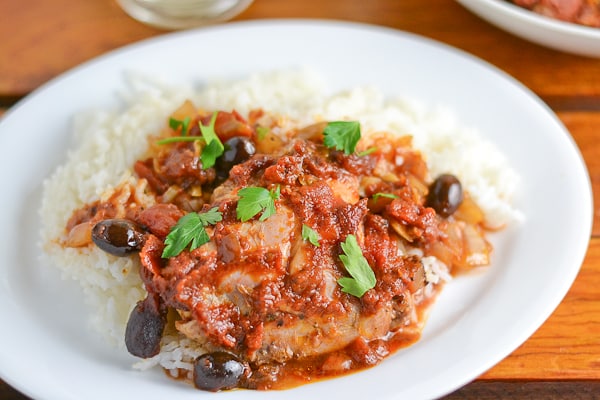 I was spring cleaning my pantry last week and found some stuff that I was not aware that I had. One of those was a jar of puttanesca sauce that I bought early this year. It came with a package of three jars. I used the other two with the spaghetti I made. I usually have spaghetti with marinara sauce and using puttanesca sauce was quite new to me. Although the two sauces were different in taste and texture, I love them both and have been using them alternately since then. Puttanesca sauce consists basically of tomatoes, olive oil, olives, anchovies, capers and garlic. I decided to use this tasty sauce on chicken and slowly cooked them in a crockpot. I browned the chicken pieces first and then along with the puttanesca sauce, I added chopped onion and garlic. After four hours of slow cooking, the chickens were tender and very tasty. Using a jar of the sauce definitely makes this dish very easy to make. They taste great with steamed rice too. Enjoy!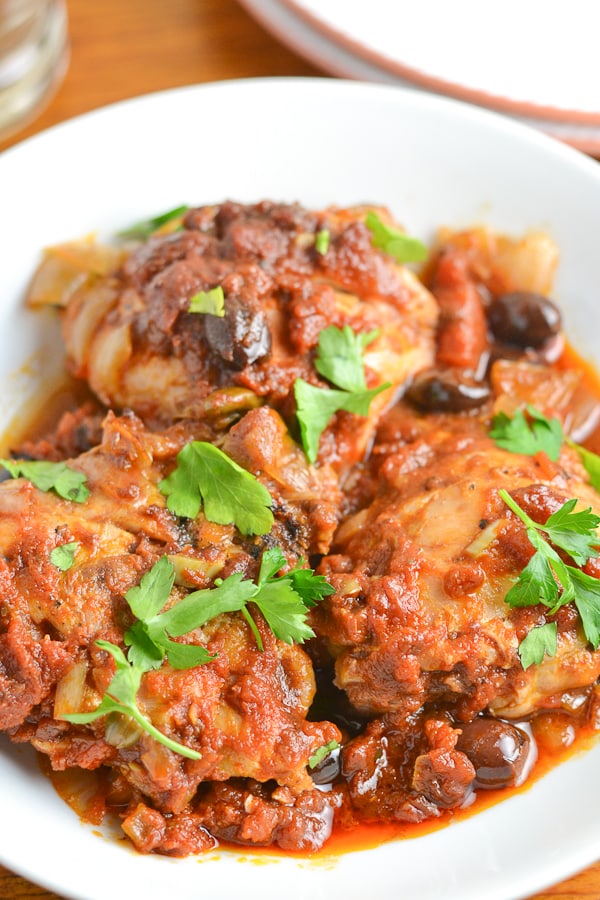 Easy Slow Cooker Puttanesca Chicken
Ingredients
1 tbsp olive oil
2 lb (6 pieces) skinless bone-in chicken thighs
1 onion, chopped
1 clove garlic, chopped
1 (530 ml/550g) jar puttanesca sauce
Chopped flat-leaf parsley
Salt and freshly ground pepper
Instructions
Season chicken with salt and pepper.
Heat olive oil in a large skillet; brown the chicken pieces for 3-5 minutes on each side.
Arrange the chicken in the bottom of slow cooker. Spread chopped onion and garlic over the browned chicken. Pour puttanesca sauce over the top. Set slow cooker on low and cook for 4 hours.
Serve over steamed rice. Sprinkle with chopped parsley.
Enjoy!