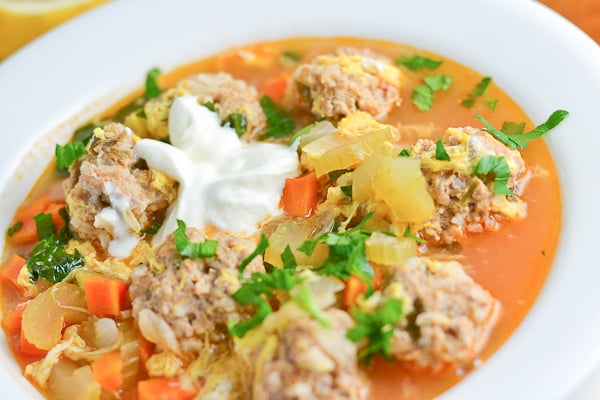 Here's another recipe from Jocooks which my son had tried and had recommended to me. I love this soup for couple of reasons. It uses lemon juice and tomato paste, ingredients that give the broth its pleasing tangy taste. It also consists of meatballs, which makes this soup hearty and a meal on its own. The meatballs have uncooked rice in them which was a new concept for me. They are cooked in the broth and not fried, making this dish healthy as well. The cooked meatballs were tender, tasty and heartwarming. This Romanian meatballs soup is definitely a keeper. It is a perfect dish to have on a cold winter day. Love it!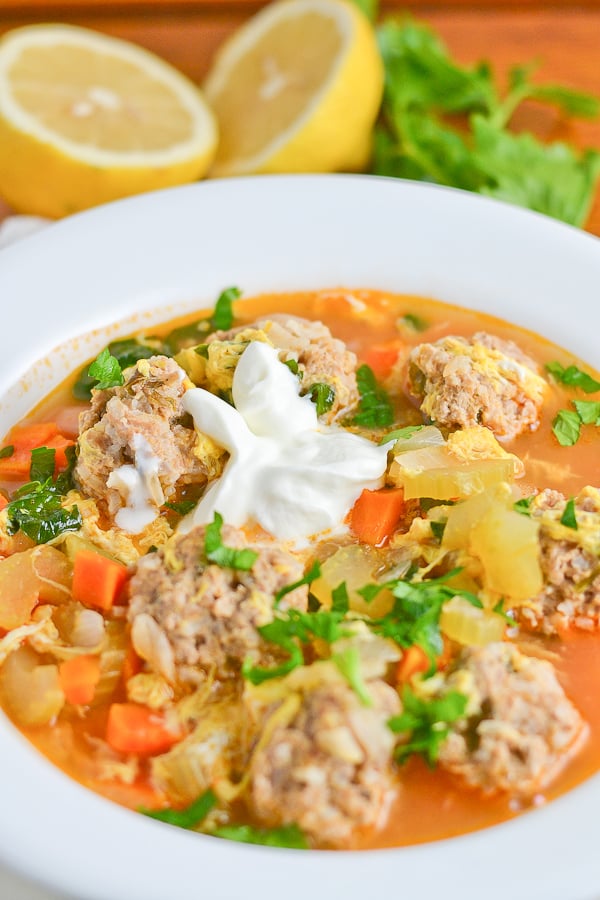 Romanian Meatball Soup
Ingredients
Meatballs:
1 lb lean ground pork
1 shallot, minced
1 tsp garlic powder
1 egg
¼ cup of long grain rice
¼ cup of breadcrumbs
2 tbsp chopped parsley
Sea salt and pepper to taste
Soup:
2 tbsp olive oil
1 onion, chopped
2 carrots, diced
2 sticks celery, chopped
10 cups chicken broth
2 tbsp of tomato paste or 1 cup tomato juice
Juice of one lemon or more to taste
Sea salt and pepper to taste
1 egg, beaten
Chopped parsley
Instructions
Mix all the ingredients for the meatballs and roll in balls of desired size. Set aside.
Heat olive oil in large stockpot. Add onion, carrots and celery; sauté over medium heat until vegetables begin to soften, about 4 minutes.
Add the broth. Bring to a boil and then add the meatballs one at a time.
Keep boiling until meatballs rise to the top then add the tomato juice or paste, lemon juice, salt and pepper to taste. Continue to simmer over medium heat for about 20 minutes. Slowly pour in the eggs in a steady stream. Sprinkle with chopped parsley. Transfer to a serving bowl, top with a dollop of sour cream and serve.