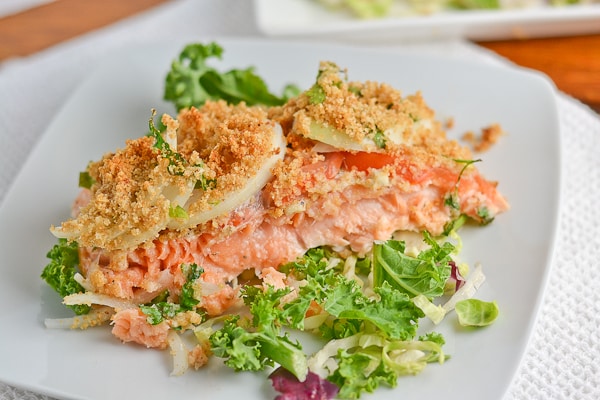 This salmon dish was so good; it was devoured by only three people instead of four. The salmon topped with tomato, onion and breadcrumbs looked so pretty and appetizing when it was pulled out of the oven; it was a shame to eat it.  This dish is so different from the usual salmon dish I made for my family. The tomato and onion topping is a new concept for me; I was skeptical to make it at first. I was not disappointed; it tasted good as it looked. When perfectly cooked, this baked salmon is tender, succulent and healthy as well. Enjoy!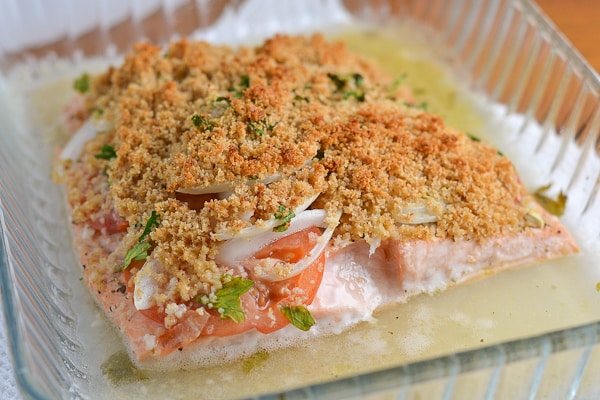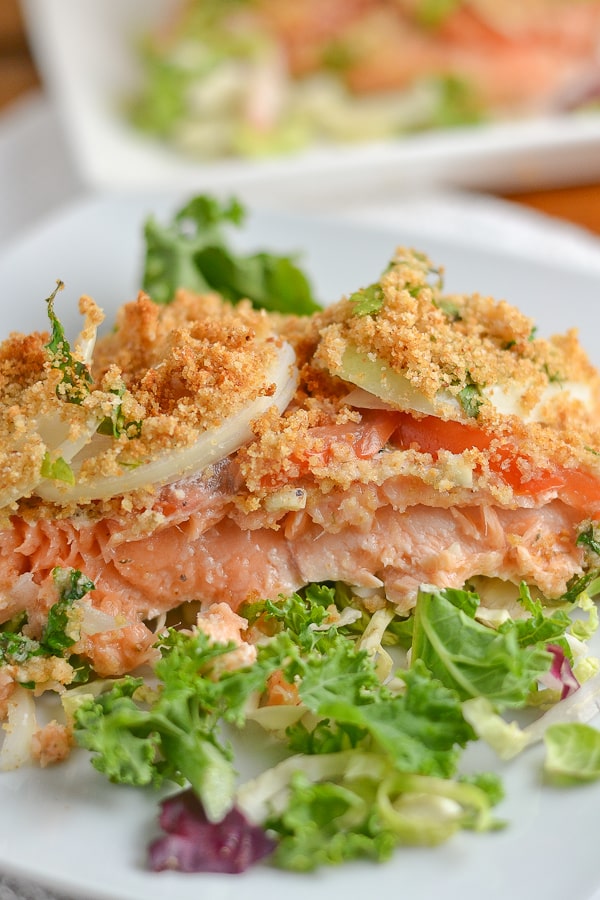 Tomato and Onion Crusted Baked Salmon
Ingredients
½ cup dry white wine
1 lb boneless, skinless salmon fillet
1 tsp dried oregano
2 cloves garlic, minced
Sea salt & freshly ground black pepper
Juice of 1 lemon, divided
2 tbsp extra virgin olive oil, divided
1 tomato, thinly sliced
½ medium onion, thinly sliced
2 tbsp chopped fresh parsley leaves
¼ cup dry breadcrumbs
Instructions
Preheat oven to 450°F.
Spray a shallow baking pan with non-stick coating. Pour in the wine.
Place fish to the pan and sprinkle with oregano, garlic, salt and pepper
Sprinkle with juice of ½ lemon and 1 Tbsp olive oil.
Top evenly with tomato and onion slices and chopped parsley.
Drizzle with remaining lemon juice.
Mix breadcrumbs with remaining 1 Tbsp olive oil, and sprinkle over veggie topped salmon fillet.
Bake for about 12-15 minutes or until fish flakes easily.
Serve and enjoy!