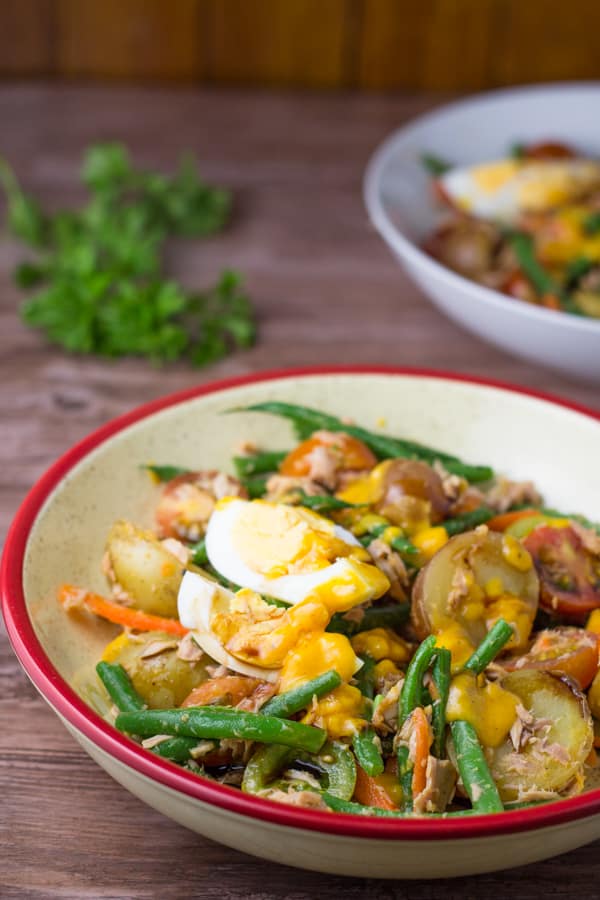 I decided to make a salad after all the eating that my family did over Easter. This salad is a nice change from our family's usual salad of Caesar's or kale. This salad nicoise with mango dressing consists of flaked tuna and vegetables like carrots, French green beans, tomatoes and potatoes. It is garnished with hard boiled eggs and balsamic glaze.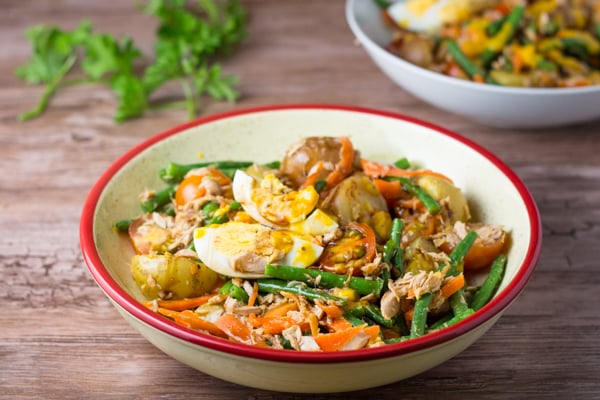 The star of the dish is the smooth and refreshing mango dressing.  I also love the flavor and texture of this healthy salad and complemented it with a plate of ribs. This dish is a keeper and I will be making it again! Enjoy!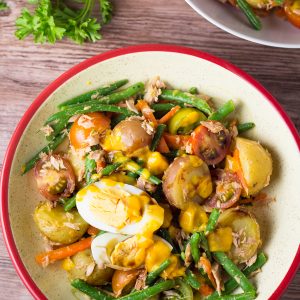 Salad Nicoise with Mango Dressing
Ingredients
2

handfuls French green beans,

trimmed and cut in halves

1

small carrot,

peeled and julienned

8

small potatoes,

rinsed and cut in halves

1

can

(120 g) flaked tuna,

drained

3

hard-boiled eggs,

cut in quarters

8

cherry tomatoes,

cut in halves

Balsamic glaze (optional),

for serving
Mango dressing:
½

ripe mango

1 ½

tablespoons

white wine

2

tablespoons

olive oil

½

teaspoon

sweet paprika

1

teaspoon

onion powder

Sea salt and freshly cracked black pepper to taste
Instructions
Fill a small saucepan with a few inches of water and bring to a boil over medium heat. Add a generous pinch of salt and then add the green beans and carrots. Cook for 2 minutes or until crisp-tender. Drain well, pat dry and set aside.

Return the water to a boil, then add the potatoes and cook for about 8 minutes or until tender. Drain and place in a mixing bowl.

Make the dressing: Coarsely chop the flesh of the mango and then place in a blender, along with the wine, oil, paprika and onion powder. Puree until smooth. Season with salt and pepper to taste.

Pour all but ¼ cup of dressing over the potatoes, then add the drained beans, carrots and tuna. Add the tomatoes and toss gently to coat. Season with salt and pepper, as needed.

Divide the dressed vegetable mixture among individual plates and then finish off with the egg quarters, a drizzle of remaining dressing and a drizzle of balsamic glaze, if using.
Notes
Recipe source: Bonnie Benwick as featured in the March 29, 2017 edition of The Province