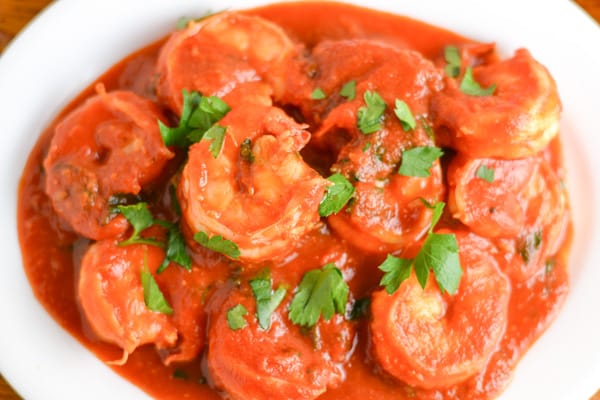 My oldest son and I had our annual Black Friday shopping trip to the US. Unlike the previous years, we only shopped for half a day. He had a conference to go to in the morning and so we left Vancouver after lunch yesterday. Although we only have limited time to shop, we had a great time and were satisfied with what we bought. To prepare for this trip, I cooked some dishes for my family the night before. One of the dishes that I made was this appetizing shrimp which my family and I loved so much. The shrimp was cooked in a mixture of crushed tomatoes, garlic, fennel seeds, clam juice and white wine. The crushed fennel seeds and clam juice give this dish its amazing aroma and flavor. They were good on its own or with rice. There was left-over sauce so I boiled some spaghetti noodles and used the sauce to dress the pasta. It was really good too!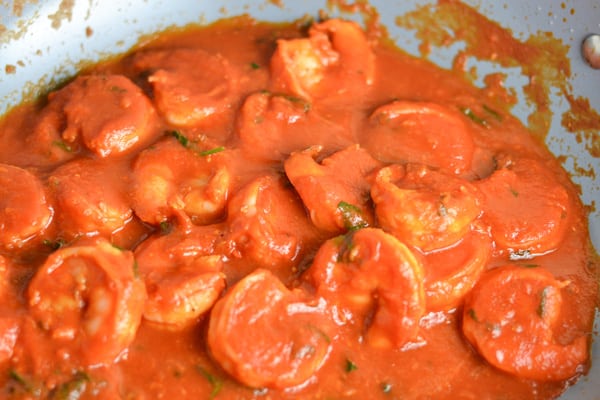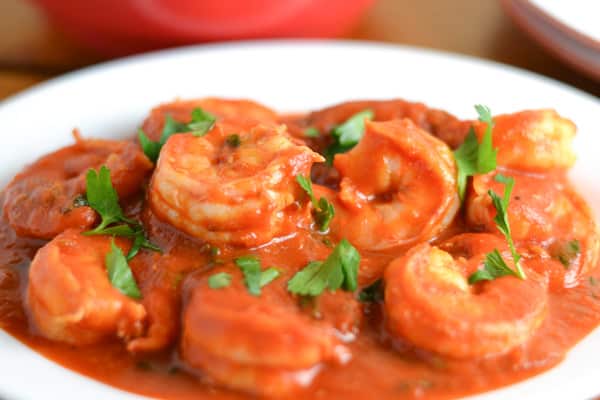 Saucy Tomato Garlic Shrimp
Ingredients
30 jumbo shrimp (21 to 25 per lb.), peeled, deveined, and patted dry
Kosher salt and freshly ground black pepper
5 tbsp olive oil, plus more as needed
3 large cloves garlic, grated or minced
1-1/2 tsp. fennel seeds, coarsely crushed
1-1/2 cups canned crushed tomatoes (from a 15-oz. can)
8 oz. (1 cup) bottled clam juice
¾ cup dry white wine
¼ cup chopped fresh flat-leaf parsley
Instructions
Season the shrimp with ¼ teaspoon each salt and pepper. Heat 3 tablespoons of the oil in a 12-inch skillet over medium-high heat until shimmering hot. Add the shrimp and cook, stirring, until partially cooked, 3 minutes. Transfer the shrimp to a large bowl.
Add the remaining 2 tablespoons oil to the skillet. Add about two-thirds of the garlic and all of the fennel seeds and cook, stirring, until fragrant, about 1 minute. Stir in the tomatoes, clam juice, and wine. Bring to a boil. Cook, stirring occasionally, until the sauce is reduced to about ⅔ cup, about 12 minutes.
Turn the heat down to medium and stir in the remaining garlic and the parsley. Add the shrimp and accumulated juice and cook, stirring occasionally, until the shrimp are cooked through, about 2 minutes. Season to taste with salt and pepper and serve.