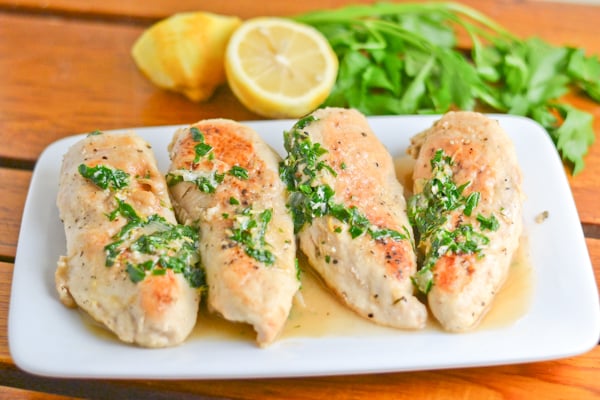 Gremolata is a pungent mixture of finely chopped parsley, lemon zest and minced garlic. Although normally used as a condiment, gremolata can also be used to dress pasta, salad or as a marinade. In this recipe, the mixture is used to flavor the sauce for the chicken. The chicken breasts are browned first and then finished cooking in a mixture of chicken broth and lemon juice. The gremolata is added to the sauce at the end of cooking. The chicken breast with a spoon of the flavorful sauce over it is so good! My whole family totally enjoyed this delicious and tasty dish. This chicken dish with gremolata  is definitely a keeper!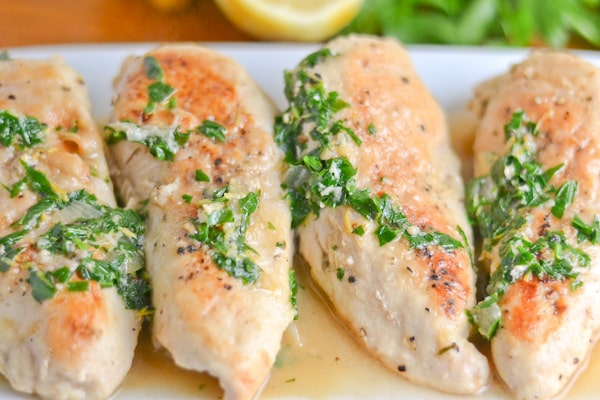 Sauteed Chicken Breasts with Gremolata
Ingredients
⅓ cup packed finely chopped fresh flat-leaf parsley
1 tsp finely grated lemon zest
1 large clove garlic, minced
4 boneless, skinless chicken breast halves (about 6 oz. each)
Salt and freshly ground black pepper
Flour for coating the chicken
2 tbsp canola oil
1 cup homemade or low-salt canned chicken broth
1 tbsp fresh lemon juice
Instructions
In a small bowl, combine the parsley, lemon zest, and garlic; set aside. Sprinkle the chicken with salt and pepper and coat both sides with flour. In a large, heavy skillet, heat the oil over medium-high heat. When it's very hot, add the chicken and brown on both sides, 3 to 4 min. per side. Transfer the chicken to a plate. Pour the broth and lemon juice into the skillet and boil for 1 min., stirring with a wooden spoon to scrape up all the browned bits. Return the chicken to the pan, lower the heat to medium, cover, and simmer until the chicken is cooked through, 3 to 5 min. (Total cooking time will depend on the thickness of the breasts; cut into one to see if it's done.) Transfer the chicken to a serving plate. Stir the gremolata into the pan sauce. Spoon the sauce over the chicken and serve at once.