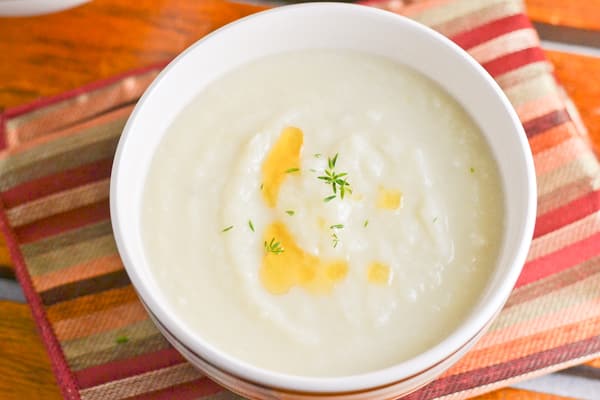 I am glad that we enjoyed nice sunny weather these past two days. We were not as fortunate this past weekend when it was cold and rainy. It is nice to enjoy these sunny days with fall just around the corner.
Saturday was busy spent running some errands. I spent Sunday indoors in the warmth and comfort of my home. The weather called for a bowl of comforting soup, so I made this creamy cauliflower soup that was shared by a friend on Facebook. This soup is quite simple and easy to make. It has two main ingredients: cauliflower and potatoes. All the ingredients are put together in a pot and is simmered until the cauliflower and potatoes are tender. In just under half an hour, you have a creamy and comforting soup to enjoy.  It is best served with a drizzle of olive oil and if desired, a sprinkle of fresh thyme leaves on top. Yummy!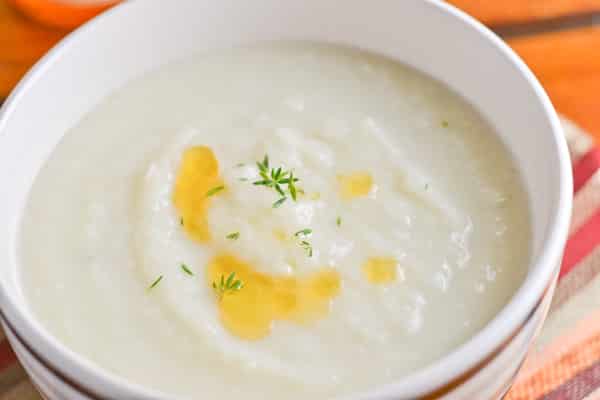 Creamy Cauliflower Soup
Ingredients
3 garlic cloves, roughly chopped
1 medium head cauliflower, florets broken off and stalk roughly chopped
2 large potatoes, peeled and roughly diced
1 large onion, chopped
2 cups milk (any - dairy, non-dairy, full fat or low fat)
2 cups chicken broth
Sea salt and freshly ground pepper to taste
Olive oil, to drizzle
Fresh thyme (optional)
Instructions
Place garlic, cauliflower, potatoes, onion, milk and broth in a large pot over high heat and bring to boil. Lower heat to medium and let mixture simmer for 10 to 15 minutes, or until the cauliflower and potatoes are fork tender.
Using a hand held blender, process until mixture is smooth. Season with salt and pepper to taste.
If the soup is too thick, add more milk, water or stock (and more salt if needed).
Serve, drizzle with olive oil and garnish with fresh thyme, if using.
Enjoy!