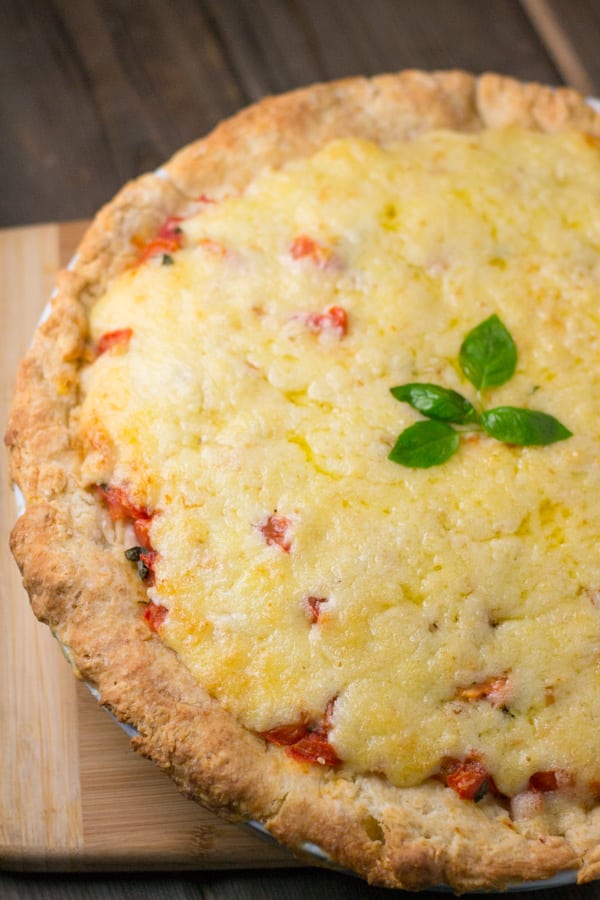 My youngest son got this recipe from a friend. His friend had this tomato pie in a restaurant in Maine. It was so good, his friend asked for the recipe and it was generously given to her.  Since tomatoes are in season and we have lots of basil in our herb garden, we decided to give it a try. We adapted the recipe by cutting it in half and changing some of the proportion. Likewise, we used cheeses that are available in our local grocery store. This is the best savory pie I have tasted! It reminds me of bruschetta and margherita pizza. The combination of the smoked cheddar cheese and Swiss cheese and the crispy and flaky crust makes it even better. I enjoy every single bite of this tasty and delicious tomato pie. Yummy!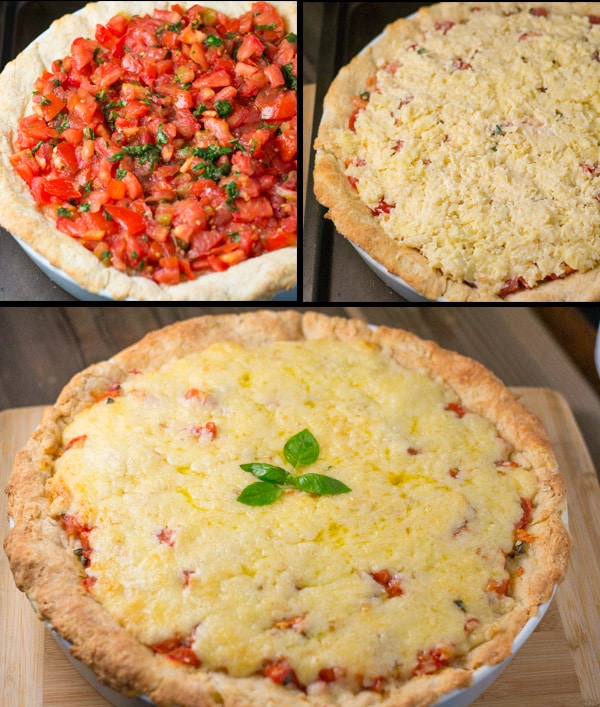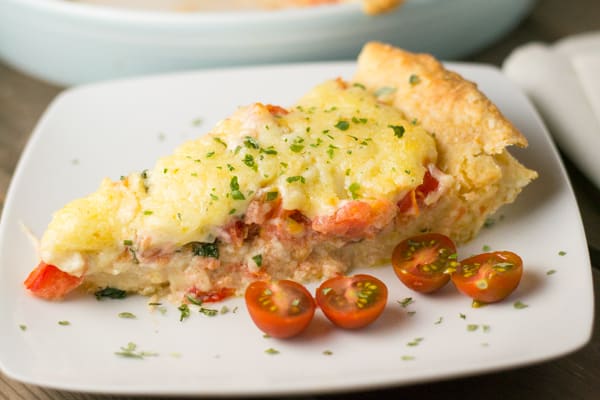 Savory Tomato Pie
Ingredients
Crust
3 cups all-purpose flour
2 tbsp baking powder
2 tsp sugar
½ tsp salt
½ cup cold butter, cut into small pieces
1 cup buttermilk
Filling
12 large fresh ripe tomatoes, diced
1 ½ cups chopped fresh basil
1 tsp salt
2 cups grated cheddar cheese (I used smoked cheddar cheese)
2 cups grated Swiss cheese (I used Emmentaler cheese)
½ cup mayonnaise
Instructions
In a colander, combine diced tomatoes, chopped basil and a teaspoon of salt. Set aside and let drain for at least 15 minutes.
In a large bowl, whisk together flour, baking powder, sugar and salt. Cut in butter into the dry ingredients and then gradually stir in buttermilk until dough forms.
Preheat oven to 400 degrees F. Place dough between sheets of wax paper and roll out into a circle that will fit into your pie pan, adding about 2 extra inches for the sides. (I used an 11-inch baking dish so I rolled out the dough into 13-inch circle.) Press dough into the pie pan, folding overhanging dough under itself along rim of the pie pan. Prick several holes in the bottom of the crust with a fork and then bake for 15 minutes or until crust is lightly browned.
Reduce oven temperature to 375 degrees F. Put tomato mixture in the pie pan.
Mix grated cheddar cheese, Swiss cheese and mayonnaise in a bowl. Spread over the tomato mixture. Bake for 20-25 minutes.
Serve warm and enjoy!
Notes
Recipe adapted from: The Burning Tree in Bar Harbor, Mount Desert Island, Maine