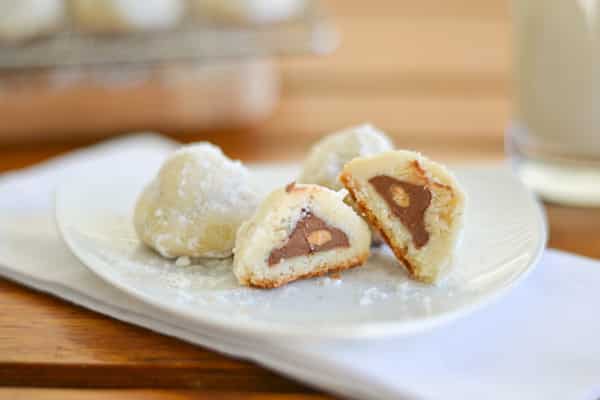 I learned about these delicious cookies from my co-worker. The way she described them intrigued me so much that I asked her for the recipe. It is basically cookies with hidden chocolate kisses inside them. Her version uses shortbread dough to wrap around the chocolate kisses. I found one that uses almond cookie dough instead. I prefer the latter one because it uses chocolate kisses with almonds, which is my favorite of all the chocolate kisses. The recipe is simple and easy to follow. The tedious part is wrapping the dough around the kisses. But it was worth it; IT IS SO GOOD! I am not a big fan of cookies. But with these cookies, I can eat a whole bowl of it if I don't control myself. I am so excited; I want to share it with you guys. Indulge! 😀

Secret Almond Cookies
Serves:
36 secret cookies
Ingredients
36 milk chocolate kisses with almonds
1 cup salted butter, softened
½ cup sugar
1 teaspoon vanilla extract
1 ¾ cups all purpose flour
1 cup finely chopped sliced almonds
½ teaspoon almond extract (optional)
Powdered sugar (icing sugar)
Instructions
Preheat oven to 375°F. Remove the foil from the chocolates. Set aside.
In a large bowl, cream the butter, sugar and vanilla until light and fluffy. Add the flour, chopped almonds and almond extract, if using and blend well.
Shape about 1 tablespoon of dough into 36 balls. Shape one dough ball around each chocolate, covering it completely. Place on an ungreased cookie sheet. Do the same with the rest of the dough balls. Use a second cookie sheet if needed.
Bake 10-12 minutes or until set but not brown. Cool slightly and roll in icing sugar.
Cool completely and roll in icing sugar again before serving.
Enjoy!
Notes
Recipe adapted from hersheys.com